Delivering quick services with transportation dispatch software is critical for every non-emergency medical transportation service provider. Businesses lacking in implementing advanced dispatching NEMT software, are at a disadvantage. They are unable to employ technology to operate promptly.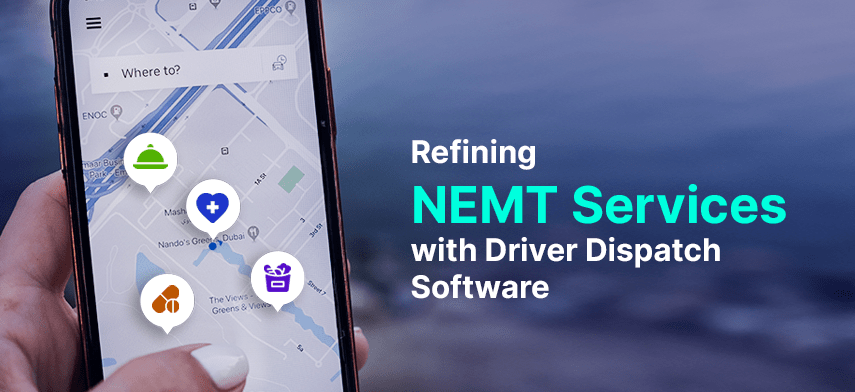 According to a Retail Touchpoints survey, 63% of customers want an online order to be delivered within three days. According to another study, after an undesirable delivery experience, 84% of consumers are unlikely to shop with a brand again. Delivery businesses cannot afford any disruptions in the dispatching process, including management or a lack of it.
Understanding Driver Dispatch Software
Transportation dispatch software systems are designed to assist organizations in automating the routing and scheduling procedures, opting for a quick and simple method for coordinating routes and deliveries. Driver dispatch software is simply termed as a digital solution allowing dispatchers with enhanced drivers and technicians for any field of service management.
Notable Features of Driver Dispatch Software
Dispatching tasks with auto-scheduling

The primary aspect of a driver dispatch algorithm includes assistance in avoiding manual labor allocation enabling the ability to schedule dispatching jobs. The functionality enables management of expansion while keeping track of jobs and driver availability. Another advantage of delivery transportation dispatch software provides concentrated route optimization and semi-automated or fully automated scheduling and driver assignment to specific loads.

Planning route optimization

Dispatchers are accountable for the time of unloading and loading, particularly for oversized deliveries. Dispatchers typically prefer smaller delivery trucks for receivers who do not have a specific loading/unloading location, hence simplifying the process of parking near the recipient. In the case of a large vehicle required for deliveries, it is important to adapt to the time spent on site.

Efficient customer communications optimization

With advanced communication features like live chat groups and channels, private chat, real-time push notifications, employee directory, and more, the driver dispatch software app streamlines operational communication in the form of announcements, updates, etc. Drivers can also communicate information regarding routes, assignment information, and shipment notification via the delivery dispatch program.

Notifications sent automatically

Real-time tracking of goods is exhaustive for most logistics organizations, especially while operating an extensive trucking fleet. The driver delivery software's automated alerts function provides solutions via updates and enables track the status of drivers.

Allocation of smart delivery

The driver dispatch software enables to quickly and easily allocate drivers to dispatchers and notify regarding their dispatches. Smart delivery enables choosing the correct trailer for cargo based on parameters like freight requirements.

Automated systems

Automation plays a significant role in simplifying operations globally. By freeing up employees and workers, organizations may save time and money by utilizing suitable automated driver dispatch technologies. Automating dispatch enables businesses to personalize delivery services and enables real-time or last-minute rerouting changes for improved client satisfaction.

Availability of drivers

Using transportation dispatch software, drivers can confirm their availability or request confirmation from your drivers for specific dispatches. The app alerts drivers with their assigned dispatches. The driver can set deadlines for accepting or rejecting the given assignment.
Cloud Dispatch Software Assisting to Overcome Scheduling Challenges
Without current technology, logistics organizations may find it difficult, if not impossible, to schedule jobs efficiently, organize routes, and dispatch trucks. Intelligent dispatch software can provide businesses with the increased flexibility they need to deliver the brand and end-customer experiences they want while being cost-effective.
The main NEMT problems are mitigated by the implementation of a robust NEMT scheduling and dispatch service software. The manual procedure of dispatching and scheduling, for example, has been automated. Cancellation and no-show events are significant problems for many NEMT suppliers.
To clarify the situation, it refers to when drivers arrive at the client's door. The client then either cancels the appointment or fails to appear at the designated pickup location. Transportation dispatch software driver scheduling assists NEMT providers in making the most of their time and money to tackle this significant obstacle. Clients receive reminders about their scheduled travels via their NEMT application's alerts and notifications capabilities or by calling.
Benefits of A Practical Driver Dispatch Software
According to ABI Research, the cost savings from implementing a dispatch management system may be well over 12% in profit and 13% in vehicle utilization, with a 15% reduction in trip time.
Here are a few more advantages of dispatch management software:
Efficient delivery routes

A dispatch management platform can help you generate appropriate travel routes quickly and automatically. You can choose to take into account the number of stops, vehicle capacity, available drivers, and the various delivery time windows that clients have been promised – all of which would be difficult to optimize routes around manually.

Service charges are lower

Effective dispatch management saves both time and money by planning routes that are as efficient as feasible. Because adequately prepared courses result in drivers spending less time on the road, fuel consumption is minimized. A well-planned delivery route might save you 20% to 40% on gasoline and driving time.

Improved delivery time

Routes that have been optimized will be faster. What happens, however, if something unexpected occurs on the road? Like inclement weather, vehicle breakdowns, or clogged roads? A dispatch management platform will immediately generate an alternate route based on the most current conditions and notify your drivers in real-time of any changes.

Increased number of deliveries

Dispatch management software allows you to make more deliveries by creating optimized routes to be as effective as possible while avoiding over-scheduling your drivers and risking burnout and upsetting clients with incorrect or late delivery times. If your service time is at risk, dispatch management software will alert you to send more drivers to fulfill the required number of deliveries.

Customer satisfaction has improved

While your delivery drivers are on the road, you want to know where they are. Customers, meanwhile, want to know where their deliveries are once they've been dispatched. Real-time information on the whereabouts of your drivers can be provided via dispatch management software to both you and your clients. This allows you to easily monitor individual drivers, while clients can get precise delivery time estimates.
Mechanisms of Driver Scheduling and Dispatching Software
NEMT dispatch software makes it simple to schedule and dispatch drivers. It is the most effective driver scheduling program available. NEMT Software for Driver Scheduling and Dispatching aids in the optimization of driver scheduling and dispatching.
NEMT Software features a solid architecture for dispatching. It aids in the development of effective ways for dealing with your booking requirements. With little to no work on your part in terms of upkeep. You can use auto-scheduling dispatching NEMT cloud dispatch software to:
Greater travel time to achieve access to care services causing physical and mental distress.
Medications management was haywire as patients resided kilometers away from a proper health facility.
Patients' health gets affected when they have to travel long distances with multiple transportation changes.
Patients with chronic illnesses get negatively affected while traveling from their homes to a medical center.
Medicare NEMT services see to it that patients of rural or underserved areas receive proper care delivery. NEMT provides a special grant to veterans in rural areas that offer transportation to VA and non-VA medical centers. As per observations and research, proper non-emergency medical transportation services in rural areas improve residents' overall quality of life.
In some of the rural communities that are devoid of proper transportation, NEMT fills the gap by:
Organize many journeys
Allow customers to book appointments online and generate daily service reports
Send reminders for appointments
The NEMT software application for auto-scheduling and dispatching is cloud-based. If you need service dispatch software, you've come to the correct place because this is the most excellent dispatch software available. It provides non-emergency medical transportation providers with appropriate scheduling, booking, dispatching, and billing services. Non-emergency medical transportation dispatch software also includes invoicing information and trip reporting (Request reports/Dispatch reports), all of which are offered via a Software as a Service (SaaS) basis. This web-based solution eliminates the need to purchase and maintain client/server software.

Wrapping up,
Teams will be empowered to enhance productivity and customer satisfaction with the correct transport dispatch management software system in place. It will put you in control of your firm, allowing you to dispatch with confidence.

Author's Bio

Shailendra Sinhasane (Shail) is the co-founder and CEO of Mobisoft Infotech. He has been focused on cloud solutions, mobile strategy, cross-platform development, IoT innovations and advising healthcare startups in building scalable products. Follow him @sunshail