COVID-19 has posed several challenges for both chronically ill patients and healthcare service providers. The risk of virus transmission in public transport has made patients think twice before stepping onto a bus, subway, or taxi.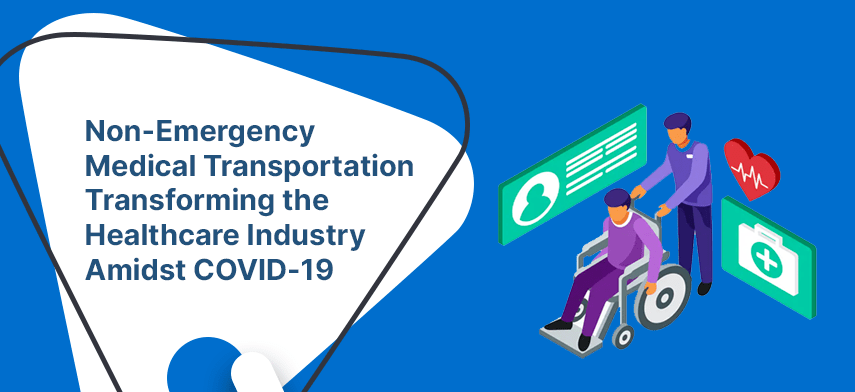 As a result, patients aren't able to receive in-time medical treatment. Healthcare providers are having the challenge to handle the heavy volume of patients and have to juggle between priority and non-priority cases. Non-emergency medical transportation (NEMT) has emerged as a solution to this hurdle. In this post, we talk about how NEMT has changed the face of healthcare transportation during COVID-19.
Crippling Effect of COVID-19 on Transportation Services
The transportation sector has taken a massive blow in this pandemic. Public transport was shut down, and transportation mediums like taxis were operating under strict guidelines. For daily commute especially for seniors who opted for ride-sharing as their means of visiting doctors' appointments.
However, the impact of the restrictions on the transport sector wasn't confined to day-to-day commuters. Chronically ill and senior members, who relied on public transport for non-emergency medical transportation, faced barriers to see a doctor for those with low income, no insurance, or living in rural areas where there is limited access to healthcare. They had no way to reach their healthcare providers and indulge in regular medical activities.
A study conducted by the UCLA Institute of Transport Studies shed some light on how COVID-19 affected transportation access to healthcare. Let's take a look at some of how COVID-19 has impacted healthcare transportation.
Insurance Coverage and Job Loss

Most US citizens rely on employer-based health insurance, and thus, a job loss has ruled them out of the health insurance coverage. Many Americans have lost their job, leaving them uninsured. This has led to financial hardships, making medical transportation services difficult to avail of.

Change in Location

Large-scale job loss and economic insecurity have forced people to move to economic and less dangerous (in terms of the pandemic) areas of the country. This moving out of people has resulted in disparities between members and healthcare transport providers.

Changes in Personal Driving

The use of private transport has plunged. Earlier, chronically ill and senior members relied on family members and caregivers to drive them to the healthcare providers. Now, as private transport use remains limited, they're having a hard time obtaining the necessary services.

A Decrease in Public Transit

Shutting down public transport was one of the first steps the US government took in response to COVID-19. Public transport has resumed to normal in most states, but bus and subway ridership remain low. Citizens are still intimidated by the virus spread, especially older members, who remain in isolation.

Impact on Ridesharing Businesses

Before the onset of the pandemic, ridership providers played a crucial role in offering medical transportation services. However, COVID-19 crippled the ridesharing sector. A Statista survey showed that 65% of US rideshare users confirmed that they've stopped using ridesharing services, and another 5% plan on doing so soon.
Non-Emergency Medical Transport – Connecting the Dots
By default, Medicare Advantage Plans Part A doesn't include NEMT services, but members of Part B and Part C can include NEMT in their insurance plan. And since public transport and paratransit remain risky, the NEMT is likely to be included in all Medicare parts. Since public transport and paratransit remain risky, the use of NEMT in the US is rising.
This trend has given rise to business opportunities for NEMT brokers and service providers. Providing fast, reliable, and cost-effective non-emergency medical transportation services is a lucrative business idea with significant potential for success and scalability.
Non-Medical Emergency Transport – Overview, Uses, and Benefits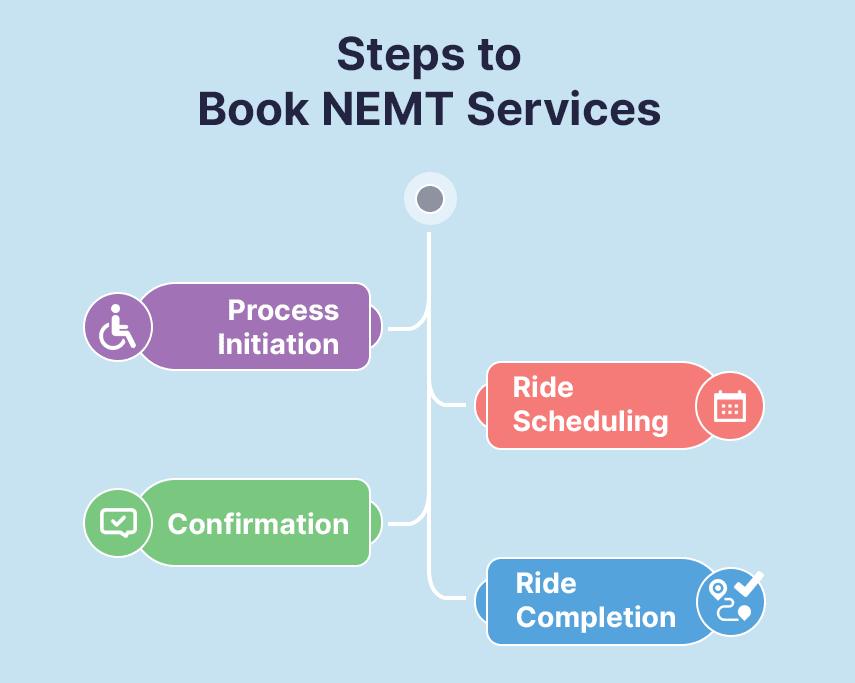 NEMT refers to a transportation service provided to chronically ill patients or senior citizens who aren't in an emergency but need transportation assistance to avail healthcare services, grocery shopping, pharmacy visits, and attend community events.
So, how does NEMT differ from the regular ridesharing services? Chronically ill and senior members need more assistance than a taxi or ridesharing services. This might include special needs such as stretchers, wheelchairs, etc.
Here's where NEMT comes into play. In addition to taxi-like transportation services, NEMT vehicles are equipped with medical equipment and other features that make transit more convenient for the chronically ill and senior members.
NEMT brokers facilitate non-emergency medical transportation services. They act as the bridge between the patient and the provider. These brokers qualify riders and vehicle fleets, schedule and book rides, and match transport requests to match members with appropriate vehicles. The brokers further ensure that their drivers and vehicles have proper licensing and insurance to provide professional services.
Let's look at how a typical NEMT process works -
1
Process Initiation
The patient calls the call center and let them know they need a ride through the NEMT dispatch software. These call centers are operated by the broker or a healthcare organization where they receive the ride request and then eventually inform the broker.
2
Ride Scheduling
The call center representative checks member eligibility using the NEMT scheduling software and then assigns that trip request to the transportation provider.
3
Confirmation
The transportation provider assigns a driver using NEMT scheduling software, the transportation management solution enables the driver to confirm booking and payment, thereafter fulfilling the trip.
4
Ride Completion
The patient gets notified about the trip status as per the ride request and the riding process reaches its completion.
Most insurance companies cover the cost of these trips, to reduce the hassle of upfront payment for the patients. Except for private pay rides where payment takes place directly as these rides are requested by patients.
It's worth mentioning how digital technology in transportation has impacted the NEMT sector. Back in the day, when brokers didn't use a transport management solution, the entire process was manual. Now, NEMT scheduling software has automated the entire process. Hence, enabling patients to book a ride from the software. No phone calls are needed, and no manual verification is required.
Benefits of NEMT for Patients
As discussed, COVID-19 has adversely impacted public transport, and people are having a hard time attaining health services. Here are how NEMT benefits chronically ill and senior members.
i
Comfortable Ride
Non-emergency medical transportation is more than just ride-sharing taxis. They're modified as per the members' needs. They come equipped with medical equipment, ramps, and lifts, ensuring a comfortable and hassle-free ride.
ii
Reduced Dependence
Disabled individuals and older people are heavily reliant on caregivers and family members for fulfilling their transport and healthcare requirements. NEMT services reduce these dependencies, making life easier for both patients and caregivers.
iii
Trained Staff
Drivers and supporting staff in non-emergency medical transportation are trained to take care of patients with different conditions and disabilities. The staff is capable of providing fundamental healthcare services like CPR and first aid if an emergency arises.
iv
Privacy
Client-provider confidentiality is paramount for NEMT providers. Patients expect their health condition and other sensitive information to remain private. NEMT providers excel at doing that.
v
Leisure
In addition to rides to clinics and hospitals, some transportation management solution providers allow patients to visit events, churches, airports, etc. Therefore, patients can travel long distances to cater to their life requirements without worrying about their health.
Importance of NEMT for Healthcare Providers
NEMT advantages are not limited to just MA plan members. Here's why NEMT has become a crucial investment for healthcare providers.
Expert Medical Monitoring Enroute

In traditional ridesharing and taxi services, medical providers had to wait for the patient to reach their facility. With non-emergency medical transportation, a medical professional can monitor the patient's condition as soon as they board the vehicle. This reduces wait times and allows clinics and institutions to provide prompt and better patient service.

Carry Medical Equipment

A medical professional isn't always enough. Sometimes, members may require assistance from medical equipment, such as CPR or first aid. NEMT vehicles can carry crucial medical equipment and supplies to ensure safety during the journey.

Communicate with Patients

NEMT vehicles can be equipped with communication devices such as telephones, which allow healthcare providers to stay in touch with the members until they reach the facility. Staying in touch enables providers to offer better treatment and services.

Alleviate COVID-19 Risk

COVID-19 has disabled public transport due to the increased risk of exposure. By partnering with non-emergency medical transportation brokers, healthcare providers can reduce COVID-19 risk for their patients and staff and reduce the administrative burden by contracting with brokers to be accountable and fully manage patient rides.
Services Provided through NEMT
NEMT service providers typically offer the following services to patients.
Stretcher Support

Stretcher support helps bed-ridden members who need NEMT but can't independently sit up or stand. They mainly include those with disabilities or recovering from surgery.

Wheelchair Assistance

Members who require support to stand or walk need wheelchair support. Non-emergency medical transportation services provide wheelchair transport to help patients board the vehicle.

Bariatric Transportation

Members weighing more than 400 kg require special transportation, also known as bariatric transportation. These transportations include large vehicles with equipment such as heavy-duty stretchers.

Long-Distance NEMT

Many members reside in remote areas without any expert healthcare facilities. Hence, they need to travel large distances. NEMT providers offer long-distance non-medical emergency transport to cater to these requirements.
NEMT and Social Determinants of Health
Social determinants of health (SDOH) include conditions that affect health and quality-of-life outcomes. The five main domains of SDOH are economic stability, healthcare access & quality, social & community context, education access & quality, and the neighborhood & built environment.
Non-emergency medical transportation plays a vital role in addressing these social determinants. For example, NEMT providers have ensured the delivery of medical supplies, groceries, and essential items amid the COVID-19 pandemic. Here's how NEMT impacts SDOH.
Employment:Creates job opportunities in the transportation and healthcare sector.
Neighborhood and Physical Environment: Provides transportation to events and parks; partners with community associations and works with local city and county governments
Literacy: Helps pick up and drop children to and from school; helps provide vocational training and works with local schools and colleges
Food Quality and Stability: Helps members get to grocery stores and food pantries; works with grocery stores for seamless delivery of food supplies
Community and Social Contact: Provides transportation to social and entertainment activities; helps seniors stay connected with family and friends
Besides, deploying NEMT can help you address other determinants such as safe transportation, nutritious foods, and job opportunities.
Wrapping Up
With public transport for healthcare becoming obsolete, non-emergency medical transportation has emerged as the go-to para transport option for healthcare providers and patients who are at the heart of healthcare. The government is also investing in NEMT by providing it as a part of Medicare offering to ensure no one faces barriers when it comes to availing affordable care.
Therefore, if you're a NEMT broker or provider, you can expect massive growth and scalability opportunities in the future. However, to ensure superior customer service and operational efficiency, it's essential to implement digital technology in transportation.
Author's Bio

Shailendra Sinhasane (Shail) is the co-founder and CEO of Mobisoft Infotech. He has been focused on cloud solutions, mobile strategy, cross-platform development, IoT innovations and advising healthcare startups in building scalable products. Follow him @sunshail