Due to the present circumstances of the pandemic, people are being advised to live in isolation. However, patients still need to go for regular checkups viz. prenatal care, dialysis, and chemotherapy. In such situations, non-emergency Medicare transportation service is extending a helping hand. Irrespective of color, race, or demographic stature, NEMT service is helping people in dire need.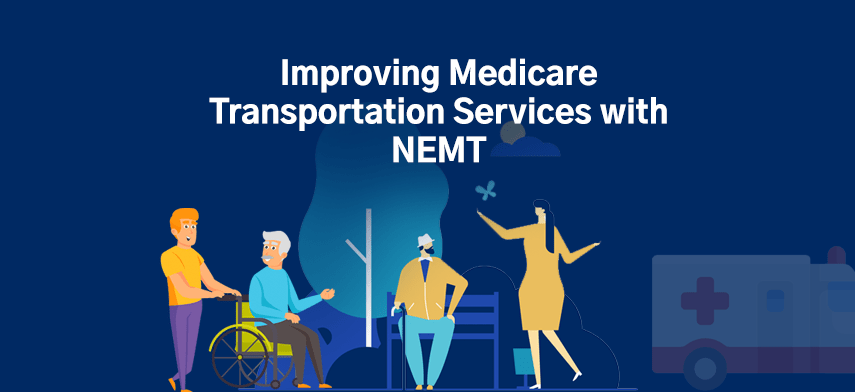 Current Risks of Medicaid and Medicare Transportation Services
Previously, there were cases when patients who used rideshare had to go through a tough time. Home health care transportation services formulated a new set of rules for health care policies to help reduce NEMT risks and challenges, that included:
A costly endeavor

Initially, patients had to spend hefty amounts for Medicare non-emergency medical transportation services. But in 2018, on-demand car companies like Lyft and Uber started to offer these services. Hence, it made it easier for patients to reach hospitals at affordable pricing.

Safety of the data

At the time of inception, NEMT companies did not have strict data confidentiality norms. Due to which rideshare companies received private information about patients shared by the healthcare organizations. Today, Non-emergency medical transport services offer cyber insurance, duly protecting the patients and data information.

Safety of the passenger

Primarily, NEMT companies didn't employ telematics solutions. Hence, passengers don't have clarity about whether the driver is driving as per the rules. On the other hand, telematics solutions focus on reckless driving, safety precautions, and more. Now companies are checking the driver's background to avoid any unforeseen circumstances.

Service limitations

Drivers of rideshare companies do not have proper medical training. The new healthcare policy clarifies that a driver should call for emergency services, especially during crises. This step saved the lives of several patients in the past. Meanwhile, Medicare transportation assistance also asks rideshare companies to place thorough signage inside their vehicles.
Setting Transportation Unit Apart via Medicare Transportation Services
Affordable in comparison to an ambulance

You can hire non-emergency medical transportation services for nasal polyps, skin infections, and similar conditions. There are various vehicles available for NEMT including cars, airplanes, vans, helicopters, etc. Compared to ambulatory services, hiring NEMT services is affordable, plus one can also hire vehicles with a storage facility for wheelchairs and gurneys. The overall cost of service can vary as per the type of vehicle chosen.

Offer a team of professionals

NEMT commercial transportation services offer a team of professional drivers and nurses, ensuring maximum safety and stability for patients and beneficiaries. These professionals are certified in CPR and first aid and NEMT companies involve training their staff as per the latest healthcare practices.

Ease of booking through software

One can easily book an appointment with the help of medical transportation scheduling software. This software is available on mobile devices and computers. The application offers multiple payment options, and it is SSL secured, plus NEMT software provides real-time tracking and enables maximum route optimization.

Ready for family events

Seniors residing in healthcare facilities are unable to attend family gatherings or events due to a lack of transportation. With NEMT, transportation services can be availed at any point in time, regardless of urgency. Additionally, professionals offer door-to-door transportation services, that ease senior patients during any family event.

Offers a feeling of independence

NEMT home service is just a call away. Elderly people can avail this service without getting reliant on their family members. NEMT services are considered a boon for seniors and chronically ill patients. This service is also regarded as extremely effective for people living in rural and underserved areas.

Fully equipped vehicles

NEMT vehicles not only come in different types, but they offer numerous facilities. You will get access to first aid, clean blankets, handrails, wheelchair facilities, and more. You can track the mobility with assistance from GPS, ensuring proper safety on the road.
The Impact of NEMT Changes on Medicaid Beneficiaries
It has been a challenging experience for patients to avail of non-emergency treatments. Their safest bet was to hire local public transportation. Many public cab drivers use to drive recklessly, putting the lives of patients in danger. The quick and responsive medical transport offers quality service with maximum care.
Few benefits that patients get through Medicaid NEMT include:
Immediate access to first aid inside the vehicle if needed.
Ample amount of space for wheelchair accommodation.
Thorough monitoring of route and route optimization through GPS.
Virtual care solutions with the help of NEMT software.
Offers door-to-door and on-demand transportation services.
NEMT is revolutionizing transportation services, where drivers allotted by transportation companies are responsible and ethical. Companies are offering vehicles that are spacious and comfortable for patients and providing better access to care delivery to their beneficiaries including:
Requesting trips through websites and mobile apps.
Hiring a manager for proper mobility and streamline scheduling.
NEMT services equally disseminate information regarding transit services.
Paid or volunteer drivers are available for transportation services.
NEMT employs telehealth reducing overall transportation time.
NEMT services enable mobile healthcare services employed for the patients.
Medicare Transportation Services Coordinating Efficient Transit to People Residing in Underserved Areas
Rural and underserved areas have faced the brunt of lack of transportation due to their geographical position. Some impacts that have negatively impacted people residing in such areas include:
Greater travel time to achieve access to care services causing physical and mental distress.
Medications management was haywire as patients resided kilometers away from a proper health facility.
Patients' health gets affected when they have to travel long distances with multiple transportation changes.
Patients with chronic illnesses get negatively affected while traveling from their homes to a medical center.
Medicare NEMT services see to it that patients of rural or underserved areas receive proper care delivery. NEMT provides a special grant to veterans in rural areas that offer transportation to VA and non-VA medical centers. As per observations and research, proper non-emergency medical transportation services in rural areas improve residents' overall quality of life.
In some of the rural communities that are devoid of proper transportation, NEMT fills the gap by:
Offering healthcare services at local schools and colleges for low-income people.
Organizes a coordination trip to qualified vendors.
With the initiation of transportation, healthcare workers visit the homes of patients.
Developing a website and a customer service center to register direct requests for trips.
Centralizing the staff for reservation requests and determination of trip eligibility.
Offering an IVR or Interactive Voice Response that is used to inform about trip cancellation in advance.
NEMT initiated few programs for low-income patients, chronically ill, and seniors in the past.
HealthTran

It is a NEMT service offering assistance to patients requiring time priority transportation across the rural areas.

Tri-valley opportunity council transportation service

It is the coordination between volunteer drivers and public transport, serving rural 8-county areas.

Angel flight west

This is a NEMT service in which 1400 pilots volunteered to help families of rural areas across 13 states. Angel flight west is considered one of the most influential charity events highlighted in the Rural Monitor Article.

Final Thoughts,
Companies offering NEMT services make sure to hire a team of professional drivers and nurses working relentlessly in rural areas for underprivileged citizens.NEMT companies have the upper hand when compared to local public transport. For this reason, it would be wise to avail this facility for better commuting. Additionally, most elders can't drive themselves, which creates a big challenge for them to stay social. NEMT services bridge the transportation gap and enable seniors or people residing in rural areas to avail comfortable traveling with minimum hassle. Therefore, with proper integrated NEMT software services, traveling becomes simple and efficient, enabling Medicare beneficiaries to avail their required services.

Author's Bio

Shailendra Sinhasane (Shail) is the co-founder and CEO of Mobisoft Infotech. He has been focused on cloud solutions, mobile strategy, cross-platform development, IoT innovations and advising healthcare startups in building scalable products. Follow him @sunshail