As of 2020, Medicare Advantage plans have been authorized to offer innovative benefits, including Medicare transportation to doctor's appointments. Several Medicare options help to offer primary health benefits to improve the quality of life. However, most of those options are some way or the other important and medically necessary to maintain the health and wellness of members. Medicare Advantage (MA) plans are seeing a surge in the certain benefits that members are availing out of which NEMT services are among the top five.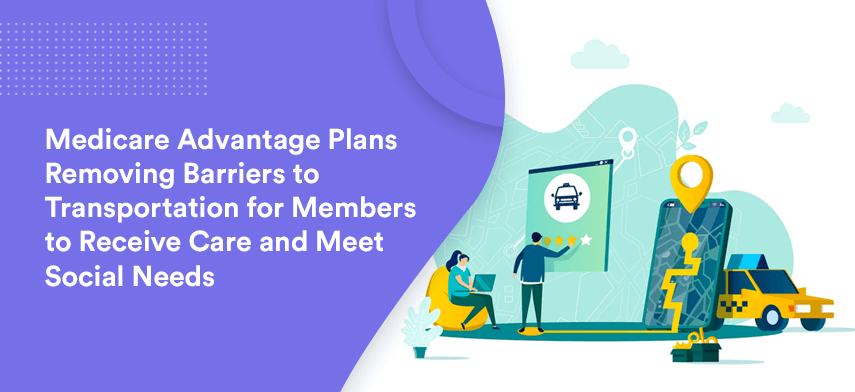 According to the RSNAT report, many states remove more than 70% of the eligible individuals from ambulance eligibility, thereby pushing thousands of people to rely on private operators. Unfortunately, there aren't many transportation choices for seniors or people with mobility problems who don't drive. Walking on busy streets, in freezing temperatures, or on crumbling sidewalks can be dangerous. While a city bus usually isn't wheelchair-friendly, and taxi service is often expensive, transportation services by MA plans can cover free rides to doctor's appointments and other approved places.
Expansion of NEMT Services Amidst COVID-19
CMS (Center for Medicare and Medicaid Service) has improved the scope of supplement benefits of MA plans. CMS emphasizes non-emergency medical transportation as a preventive service, including trips to wellness programs, therapies, events, and more. More than 243 players in the MA genre have introduced transportation as a part of the member benefits. By the beginning of 2020, most of the new plans with transportation benefits will be open for specific members, who are considered more likely to gain more benefits with non-emergency medical transportation features.
The primary reason for the spotlight to turn on non-emergency medical transportation is the pandemic. Due to the virus spread, the frequency and safety of public transportation fell off the chart. Hence, the number of people choosing to avoid medical assistance for non-emergencies increased. This did not affect those who took prenatal care, chemotherapy, kidney dialysis, and more. This transportation barrier led to the rise of non-emergency medical transportation services via Medicare Advantage Plans.
Beyond this, NEMT services became prominent for delivering medicines and food to people who were isolated during the pandemic. The elderly population found it extremely unsafe to walk out in public to buy personal care products, groceries, prescription drugs, and more. NEMT was a better alternative to home-delivery via those retail stores, as the retailer's delivery personnel could be asymptomatic carriers.
Another key reason was the welfare of drivers. A transportation service provider might not have safety equipment or access to high-end testing options. Moreover, they may not be aware of perfectly disinfecting the in-vehicle space. The NEMT personnel are professionally trained who have ready access to PPE supplies. These were the reasons why the demand for non emergency transportation rose during this pandemic period.
Why should people use medical appointment transportation services for delivering products? Anyone could deliver a bag of vegetables. But, how about blood fluid samples or delivering high-value prescription drugs to hospitals? Moreover, patients with the infection or who are suspicious of infection could not take up the normal transportation.
As per a recent report by ATI Advisory, Non-Emergency Medical Transportation services to non-enrolled locations are permitted if these locations have been identified as alternative care or surge locations set up in response to COVID.
Medicare Advantage Expanding NEMT Services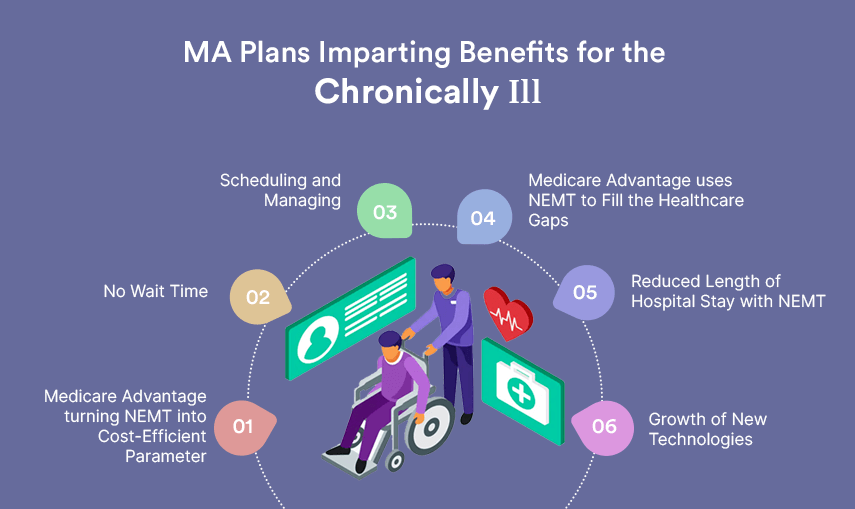 Medicare Advantage is increasing a patient's access to non-emergency medical transportation services. Medicare Advantage is improving the overall quality of life of those patients by offering this service. NEMT services are getting digitized and efficient offering better services. Here is how MA plans are imparting benefits for chronically ill and senior members.
Cost-efficient services

While using NEMT, the out-of-pocket expense of a patient reduces than the original plans. According to a study, more than four million people fail to get adequate routine care because of reduced access, inability to travel, and more. Missing appointments amount to $150 billion in terms of aggravated medical problems in the future. Medicare Advantage is showcasing NEMT as preventive medicine, allowing people to reduce the possibility of spending more in the future, and by avoiding several complications via early detection and treatment.

No wait time

Many private players have started to pitch in this genre hand-in-hand with Medicare Advantage. For instance, MedStar and Uber are partnering with medical transportation services. Uber Health is designed specifically for such services. Such new players allow chronically ill and senior members to access these facilities without waiting longer. Lesser waiting time and fewer complex processes would reduce the user difficulties in availing these benefits.

Scheduling and managing

Many NEMT service providers offer the patients an option to schedule their rides well in advance. The providers send a text message to remind the patients about the ride and also when the ride would reach. The solution allows mobility management for multiple visits at different locations too. It becomes easier to schedule appointments with healthcare providers since NEMT assures transportation options. It is a personalized care solution for people who are more likely to forget an appointment.

Reduce barriers to access care and fill the healthcare gaps

It is safer for a chronically ill individual or a high-risk senior member to use NEMT instead of public transportation or even cabs. NEMT services to an at-risk individual would improve the quality of life of those patients. For instance, a cancer patient with reduced immunity might find it potentially dangerous to travel on a bus or ride-share option. Since Medicare Advantage offers non-emergency medical transportation services to such people in any environment or circumstances, it would reduce the challenges involved in those people's life.

Reduced length of hospital stay

Several senior patients tend to stay in hospital care to avoid the hassles of visiting the hospitals now and then. A patient who requires dialysis every week need not stay in the hospital for longer as NEMT will allow him to visit the doctor with ease. Reducing the hospital stay length is beneficial for both the patient and the hospital. It reduces the overall cost, mental stress, and other constraints on the patient. Moreover, the patient can move on with his routine with ease. According to a study, among patients who stayed in a hospital for more than 21 days, 55.71% were depressed, compared to the time of admission (12% were depressed). Thus, NEMT can improve the mental health of the patients, aiding in faster recovery.

Growth of new technologies

Because of Medicare Advantage, the number of players in the transportation management solution market is piling to pitch new and improved ideas. The old method of phone-based NEMT booking will soon get eradicated. Several mobile apps will be on the rise to offer smoother scheduling, booking, and payment options. Such an application will improve transparency via reviews and ratings, thereby improving the performance of the NEMT drivers, just like taxi services. New NEMT software can also reduce the overall cost of managing and maintaining the service. Moreover, such digitalization assists personalized experience, data security and privacy, GPS-enabled tracking, and more.
Medicare Advantage Coverage for Transportation
While Medicare Part A and B programs cover emergency medical transportation services, Medicare Advantage covers non-emergency medical transportation. The type of non-emergency medical transportation offered by the provider varies with the plan, location, and more. However, here is the general inclusion of transportation options covered by Medicare Advantage.
Transportation involves visits to alternative medical treatments like therapies, massages, fitness centers, and others.
Travel to and from a doctor's appointment that does not constitute an emergency.
Medical appointment transportation services that do not involve a doctor's visit, like pharmacy visits, lab tests, and more.
Non-emergency transportation services that require an ambulance on a preventive basis (for a critically ill patient who is currently in stable condition), if recommended by the doctor.
Availing NEMT: The Impact of Modification Affecting Transportation Services
The main change is the quality of transportation. Many NEMT services have adopted new technologies to reduce complications. Vehicle automation and other AI technologies would improve the NEMT quality and efficiency. There might be a possibility of availing Medicare transportation services as Maa (Mobility-as-a-service). Maa service providers allow one-touch booking of a series of transportation (flight, train, road transportation, and more) for NEMT. Such a service will help a healthcare provider to integrate multiple transportation options to improve convenience and efficiency.
A standard solution for all transportation requirements will be shattered soon. The service providers can customize the non-emergency medical transportation services to suit different patients. The other advantage of digitalization is data analysis. Using new technologies, the operators can generate volumes of data that can help to customize the transportation solution in the future. This data would also help to create technology-driven strategies to reduce the pressure on the end-users (the customers).
Final Thoughts,
From a third-person point of view, a visit to a doctor is a simple task. However, for chronically ill and senior members, it is a major concern. CMS has ruled NEMT as a part of Medicare Advantage to help thousands of people to lead a happier and healthier life by allowing them to avail required medical services. New trends and modern technology would make NEMT more efficient soon. CMS aims at adopting integrity reviews for NEMT programs. CMS is also pushing for the individual's safety during NEMT, by offering medical training, ensuring patient safety protocol, and more. It is no longer an added advantage for patients, and CMS tags NEMT as a preventive measure for health management.
Author's Bio

Shailendra Sinhasane (Shail) is the co-founder and CEO of Mobisoft Infotech. He has been focused on cloud solutions, mobile strategy, cross-platform development, IoT innovations and advising healthcare startups in building scalable products. Follow him @sunshail