NEMT billing software helps transportation companies bill accurately to their clients, ensuring timely payment of covered trips. Advanced software saves transportation providers time, labor, and cost; enabling them to focus on delivering a seamless and well-coordinated medical transportation experience to patients improving the overall experience.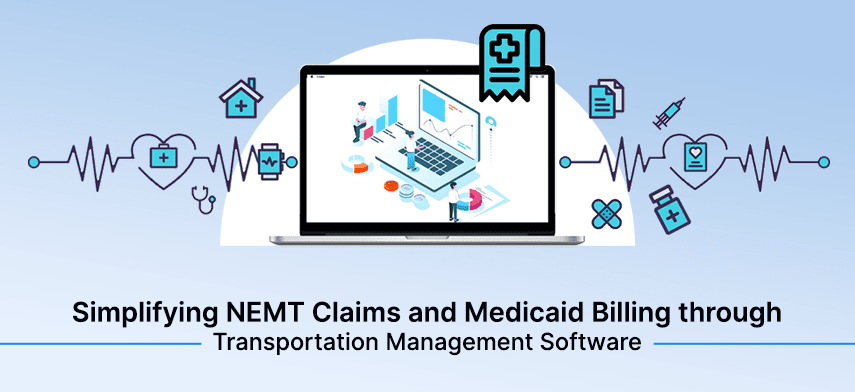 Non-emergency medical transportation management software has become essential for meeting the medical and non-medical needs of patients and having a streamlined billing module in the NEMT solution leads to better reimbursements and reduces administrative burden.
The fast pace NEMT industry and fierce competition among transportation providers have led to a dynamic platform that not only supports scheduling, and dispatching but includes a billing module that can process state-specific claims and private pay invoices. It is noteworthy that automation and machine learning are fundamental to streamline and organize the labor requiring tasks better.
Concerns Encountered by NEMT Providers
NEMT Billing is always stressful. Providers must meet tight deadlines, submit a bunch of paperwork with the necessary information, and maintain accurate information meeting the compliance to avoid wasting time-consuming and costly. Dealing with brokers, payors, schools, and other healthcare organizations requires robust software that helps you to rule out any guesswork and bill clients appropriately.
The non-emergency medical transportation providers have faced a lot of difficulties recently during COVID-19. Accuracy in claims data, approved and denied claims, and reviewing the paid batches has been a nightmare. The NEMT providers have many responsibilities in addition to the burden of scheduling, deciding the route, dispatching, and billing which usually can increase the chances of error in billing without any automated software. While manual billing may appear to be a cost-effective option, billing errors may result in the loss of clients and revenue.
The most frequent source of billing errors is receiving erroneous information about the patient, or misleading information about the drivers, covering non-eligible trips, and doing wrong attestations which later can be harmful under records and leads to penalties by Medicaid. The NEMT Providers often face the problem of mismatched medical codes that can also result in a high level of mistake in the billing for completed trips.
Rejected Claims
Rejected claims are one of the most widespread Medicaid billing problems. Claims that have been left are those that have one or more flaws and can't be processed. Clerical mistakes, mismatched practices, and ICD codes are the most common reasons for claims being rejected. Patient ineligibility, on the other hand, is a significant source of rejection. To avoid contradictions, front-end workers must confirm a patient's health insurance status and coverage.
How can they be avoided?
A dependable transportation management software and clearinghouse software is the best way to avoid Medicaid billing problems, including denied claims. To prevent rejections, the transportation management software reviews all claims for errors before sending them. This eliminates the need for providers to make improvements later, saving the company time and resources.
Denied Claims
Claims that have been processed by the payer but are considered unpayable are referred to as denied claims. Payers can give them back to the provider with a description of the issue, and payers will fix the claim and resubmit it for processing, just like rejected claims.
How can they be avoided?
The easiest way to avoid claim denials is to use the correct billing tools. Transportation management software checks claim for mistakes before submitting them to avoid rejections. Providers who use our EDI billing platform are much less likely to have claims issues, and they can save time and money as a result. Switching to transportation management software is a good move that will result in fewer mistakes and quicker reimbursement times. Provide a better ride experience to patients, streamline your operations, and receive profitable reimbursements
Benefits of Mobisoft Billing Software Management
All-in-one package

Our white-label or Saas solution can promote better access to transportation dispatch software from any computer, whether you're at work, at home, or on the go.

It is easy to use

Since our NEMT Medicaid billing program has a simple and user-friendly interface, it is easy to use and understand. You'll have to spend less time learning the application and can focus on dedicating more time to scale your operations.

HIPAA-compliant billing NEMT Solution

With our HIPAA-compliant billing NEMT app, all information is securely stored and kept private. The privacy and safety of our users are of prime importance. The software is secure from cyber breaches, and your data is safe with us.

Maintenance and Support

Providing support and maintenance based on your custom needs. Our extended custom features include app monitoring and support activities available at your service if you need any help managing the interface and giving you other technical assistance.
Opportunities Presented by NEMT Billing and Claims Management Software
Faster payments

Work with multiple funding sources such as Medicare, Medicaid, other contracts and get paid faster.

Simplified attestation

Let the system do its work of knowing the completed trips and helping you to simplify the attestation process.

Forms and Reports

Quickly fill up forms and generate printable reports for better reporting and data submission.

Streamline Medicaid Billing

Creates batch billing files and reduces rejected tips enhancing billing accuracy and compliance.

Smart coding

Make the billing process easy by reviewing the correct medical codes applied by the system and rates to each ride.

Invoicing

Track private pay client's trips with built-in filters and submit invoices to receive timely reimbursements.

Bottom Line,
It is imperative to understand that Medicaid Billing and Private clients invoicing can be two-fold activities but equally important to your organizations. Claims management can be well handled when automated billing software is used. It saves the cost of labor that you otherwise required for maintaining the records, patient trips, and managing drivers leaving a burden with no boost to your business. It is essential to deploy an automated billing software that leads to improved customer relationships and streamlines the entire Medicaid billing process and reimbursements. Since each phase is tracked, the level of automation in our NEMT software scheduling, dispatching, attesting, and billing a cool breeze.
Author's Bio

Shailendra Sinhasane (Shail) is the co-founder and CEO of Mobisoft Infotech. He has been focused on cloud solutions, mobile strategy, cross-platform development, IoT innovations and advising healthcare startups in building scalable products. Follow him @sunshail