The organizational routing requirements are becoming complex as technology advances, leading them to implement route optimization software into their already existing systems. The software has its beneficial leverage including cost and time saving, reduced expenditure on gasoline, and minimizes human dependency.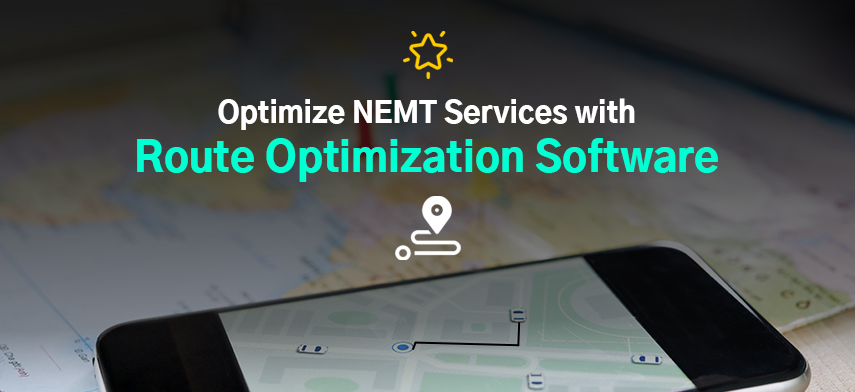 Route optimization software programs complete all of the necessary complex computations at a quick pace, generating 100% accurate and optimal results. Healthcare and transportation businesses, as well as organizations, can grasp the opportunities provided by route optimization to grow their business.
The non-emergency medical transportation sector has seen rapid growth in the healthcare sector in the past few years. Researchers have observed that health transportation services are likely to increase more than 4% with a market growth of USD 31.51 billion by 2026. With the immense growth in the patient transportation services industry, route optimization software will be an essential integration for NEMT providers and services.
Let us understand what route optimization is and how it improves transportation services.
Understanding Route Optimization and its Implementation
Determining the most cost-effective, shortest, safest, and traffic-free route is known as route optimization. the route optimization software assists businesses to improve finalized orders or supplies of delivery while considering a variety of factors such as driver schedules, NEMT cloud dispatch, number of stops, available time, fulfillment assessments, and regulatory requirements.
The NEMT dispatch software integrated with route optimization improves the ability of medical transportation to be streamlined and seamless. NEMT dispatch can determine routes ahead of delivery or care delivery services with route optimization assistance. Hence, optimizing the entire workflow with cost-efficient and time-saving methods.
How NEMT Dispatch Software Help in Route Optimization Services
NEMT dispatch software is beneficial to NEMT providers and business owners in several ways. A few of those include:
To riders

People requiring any transportation service can fulfill their needs using NEMT dispatch software. It aids in avoiding emergencies when traveling to an allocated destination or just to meet relatives and family. This sense of self-sufficiency can lead to a greater sense of well-being, which can aid in managing or recovering from chronic conditions.

Route optimization software enables riders to travel in a timely and efficient manner through:

Optimization of the route
Vehicle and driver tracking
Brokers' ability to communicate directly with dispatchers and drivers
Trip tracking in real-time

Regular customers will appreciate the convenience of having their name, address, contact information, and payment information saved for future rides.

To transportation agencies

Paratransit dispatch software that fosters competency in diverse operational zones continues to be highly beneficial to transit operators. Below are some of the most evident benefits of route optimization and patient transportation services for transportation agencies:

Management of ride requests and route optimizing
Personnel can manage customer ride requests more efficiently and precisely
The ability to view the real-time route and booking alternatives assisting providers to streamline routes and transportation services for entire fleets
Real-time monitoring, driver scheduling, driver dispatch information, and more
Representatives utilize NEMT dispatch software to keep a check on vehicles and designated drivers
Improvement in customer and rider experience
Providing analysis, reports, and management of critical care rides
Barriers to Transportation Businesses without Route Optimization Software Integration
Healthcare and patient transportation services and businesses suffer major setbacks when the optimization of routes and rides isn't efficiently streamlined. Some of the barriers faced by transportation businesses without having route optimization software integrated include:
Inefficient routes

There are inevitable failures when planning routes via instincts and paper-based methodologies are utilized. Businesses and organizations spend hours plotting out their ways with no guarantee that these methods will be efficient or even correct. To avoid paper-based methodologies and include digitally transforming ways to plan better rides, route optimization implementation is necessary. It takes into account obstruction in routes, drivers' ability to stay on schedule, traffic, construction, weather, one-way streets, and more.

Incompetency in driver tracking

It makes no difference how efficient the routes are if the designated drivers don't follow them. While on the clock, drivers may be taking breaks or performing errands which can delay the time when offering transportation services. A GPS tracker is used by the leading non-emergency medical transportation service companies to keep track of their drivers in real-time. Thus, allowing organizations to ensure that proper routes are followed and staying on schedule.

Lack of transparency for customers

Customers need to know and see that their time is of value. Customer satisfaction and loyalty are necessary for the growth of transportation businesses. Lack of transparency in transportation provisions can result in loss of business from potential clients. Another reason to use a delivery route app with GPS tracking is to keep track of deliveries. Customers can track the status of the driver they're waiting for using advanced route optimization tools.
Benefits of Route Optimization Process
With challenges, there are various ways a medical and patient transportation services business can benefit from integrating route optimization software into their system. Let's look at some of the benefits of route optimization in transportation services.
Rapid planning of routes

Using manual or pen and paper methodologies to design routes is neither user-friendly nor efficient. With the inclusion of route optimization software, efficiency in route planning and processing can be implemented rapidly. In seconds, the route optimization program completes all of the necessary complex computations, generates a path that is 100% accurate and optimal. Thus, resulting in time management in NEMT business growth.

Successful route planning to avoid uncomfortable paths

While drivers travel a variety of routes each day, they will undoubtedly encounter a variety of comfortable as well as uncomfortable turns. Each turn has different sets of challenges. Efficient route optimization software integrated into the dispatch software system can assist in avoiding uncomfortable road conditions and offer successful transportation for medical or non-medical services.

Ensuring safe and secure drop-offs

Having streamlined route optimization software can ensure safe and secure drop-offs for clinical and non-clinical services. The implementation of route optimization into NEMT dispatch software can help to curb unnecessary delays to medical appointments and on-time drop-offs to designated locations.

Route Optimization Enhancing Staff Performance
The planning software from NEMT Cloud Dispatch not only ensures improved fleet and transportation efficiency but also boosts employee planning. NEMT providers and organizations can achieve excellent staff scheduling and driver dispatch services. Route optimization when enhancing staff performance parallelly improves:
Customer service experience

Customers' expectations and satisfaction are two major aspects that NEMT providers and organizations need to meet. Route optimization software considers all of these clients' expectations and requests to provide enhance transportation services. The order cutoff can be suspended, and delivery timeslots can be adjusted more precisely. As a result, providers can improve client and customer satisfaction which in turn improves staff morale.

Decision-making abilities

The most significant route optimization software enables better planning of transportation operations and provides vital information. Based on critical data, sound and critical judgments can be made with the help of creative solutions or hypothetical simulations. To model the most efficient fleet, calculate the impact of substitute cars on planning. In other words, compare customer revenues against the marginal cost of pickup and drop-off to determine the ideal timing.
Final thoughts,
Without a doubt, route optimization software has numerous advantages, including a high return on investment. Transportation routes are now efficient, planned, and optimized using the best algorithms based on a NEMT company's KPIs and requirements for client satisfaction. Whether looking for a driving route planner, a better route planner app, or a trip route planner, NEMTPulse's integrated transportation services can assist in creating an efficient, streamlined, and seamless route optimization software.

Author's Bio

Shailendra Sinhasane (Shail) is the co-founder and CEO of Mobisoft Infotech. He has been focused on cloud solutions, mobile strategy, cross-platform development, IoT innovations and advising healthcare startups in building scalable products. Follow him @sunshail