Non-emergency medical transportation companies and providers have accepted that offering variety and inclusivity is the world of differences. We have been indoors for an extended period due to the pandemic and we are completely shut out from the world and how it used to operate. Ridesharing services are including passengers who need to and love to travel another way to utilize commutes and ridesharing opportunities without risking any infections.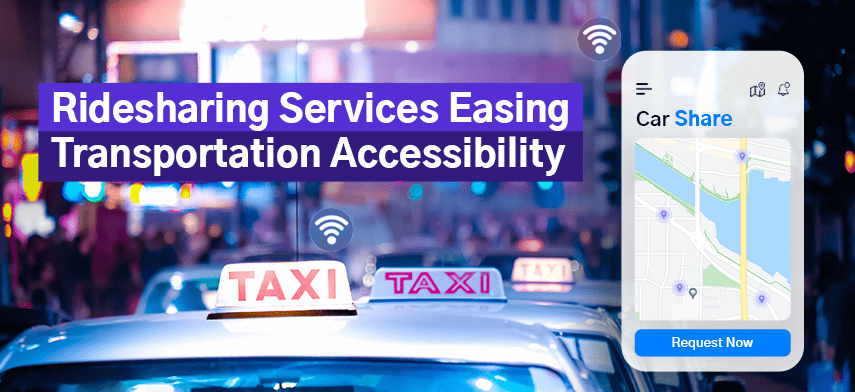 With non-emergency medical transportation, on-demand software for transportation, and/or paratransit solutions, integrating ridesharing opportunities have become incredibly easy and easy to use.
Why Offering Ridesharing Services is Important?
Ridesharing services utilize very niche transportation technology that helps to manage the web-based transportation software, offers alternative commuting, and ridesharing opportunities. Some of the reasons as to why offering ridesharing services can be beneficial for transportation businesses include:
Provides more options to riders

Ridesharing services are known for their flexible complacency when it comes to fixed routing. Transportation management solution linked with ridesharing services provides more options to riders, hence, enhancing customer experience and satisfaction. Ridesharing transportation services provide better mobility and accessibility to worksites and other spaces for people with disabilities, lower-income communities, and non-drivers. The service is cost-effective, convenient, and extremely safe for public transportation services.

Better ability to make matches

By automating and streamlining the process of matching drivers with the riders, ridesharing services make commuting much easier and stress-free. Having the right on-demand software can help riders with different transportation services including bikes, carpools, vanpools, public transportation services, etc. including proper trip-planning equipment and ridesharing service, riders and drivers can continue to have a constant experience of commuting with alternative modes of transportation.

Cost-effectiveness for commuting

The flexibility of ridesharing services allows enhanced complacency and flexibility, especially for fixed routes. Utilizing ridesharing can help reach underserved and rural populations instead of relying on traditional public transportation services. This service enhances operational success improves transportation diversity, and is extremely cost-effective for regular commuters.

Better environmental impact

Implementing ridesharing services into your non-emergency medical transportation software can reduce the emission of impactful greenhouse gasses. With niche and sophisticated services, like NEMT software, it can be easily quantified and reported on how it impacts the environment and saves energy at a massive scale. This can be beneficial for transportation agencies to demonstrate how transportation has progressed in the years, and how it will keep impacting the environment.

Decrease in traffic and road congestions

One of the many reasons why ridesharing services are becoming effective is in decreasing traffic and road congestion. Even with ample cars, research has proven that due to ridesharing solutions, several people are electing this service rather than owning their cars. The future of transportation with ridesharing services is becoming more significant in the transportation industry. Consequentially, it will enable more people to choose the most suitable option for their commute.

Greater success rates

It is important to have ROI or operational goals to accurately describe your success rates. For NEMT users, it is easier and more efficient to report greater success rates with ridesharing services. The ability to report, track, and make necessary arrangements for a single occupant of vehicles can increase the visibility of the brand and grant better opportunities to achieve transportation goals.
How can Participants Benefit from Ridesharing Services?
Drivers associated with on-demand software or ridesharing services have a lot of benefits for the services they provide. Passengers and participants of ridesharing services utilizing the commute have some benefits too. By saving costs and improving environmental impact, ridesharing can be a beneficial gamechanger in the transportation industry.
Let's take a look at how ridesharing participants can benefit from these transportation services.
Saving expenses

Single occupancy vehicles or SOVs are affordable and easy for commuting. Participants included in ridesharing or pooling can save up a lot of money and parking charges on an annual basis.

Enabling better impact on the environment

Trucks and other heavy automobiles contribute to the problem of air quality. Integrating ridesharing services can reduce traffic congestions and assist in the correlational improvement of environmental gas emissions. Eliminating the regular commute by cars can enable a better impact on the environment with ridesharing capabilities.

Improvement in transportation efficiency

Ridesharing services are well known for their time-saving feature. It reduces a lot of stress on riders and drivers and also incorporates time-efficient commuting. Ridesharing is a more convenient option to cover both short and long distances for people with mobility problems.

Final thoughts,
Ridesharing services as a transportation management solution will be becoming more accessible and convenient for passengers and provide better commuting strategies. In this era of an ongoing pandemic, it is important to implement safe and secure rides for people to avoid contraction of diseases, improvise better mobility services for lower-income and underserved/rural populations, and provide accessible daily commutes through on-demand software. With non-emergency medical transportation services, it is easier to integrate these services for better transportation solutions.

Author's Bio

Shailendra Sinhasane (Shail) is the co-founder and CEO of Mobisoft Infotech. He has been focused on cloud solutions, mobile strategy, cross-platform development, IoT innovations and advising healthcare startups in building scalable products. Follow him @sunshail