Going back on reflecting the last two consecutive years, where society faced its greatest challenges and disruption, transportation remained a crucial aid. Personal vehicles, public transportation services like buses and trains were heavily relied on by Americans for a better mode of conveyance for work purposes and accessing critical amenities or care delivery for their family and friends. Technology in transportation created various new opportunities and offered enhanced transportation innovations.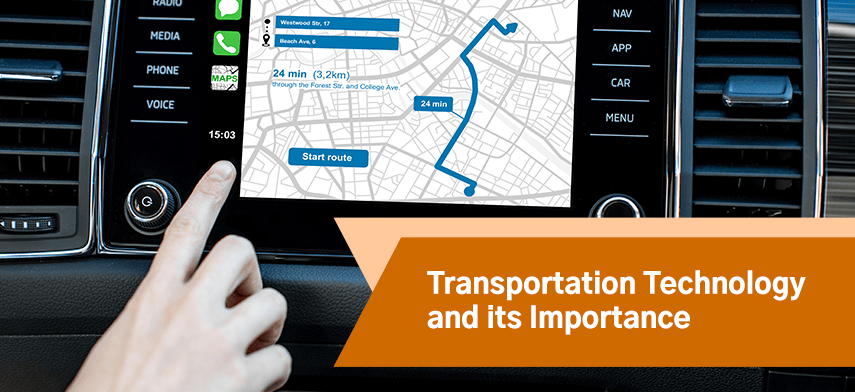 We are well acquainted with the challenges and struggles the pandemic presented for the transportation industry, we've also seen considerable growth and significant progress in this industry. Transportation technology has indefinitely enhanced transit accessibility, offered better ride experiences to passengers, and also kept environmental factors in mind by reducing harmful emissions. Technology in transportation has been at the core of every improvement that we notice in the industry.
Innovators and tech leaders are moving forward in ensuring newer technologies are implemented in transportation in 2022. This includes the implementation of autonomous transportation, electric vehicles, on demand transportation, on board communication systems, and smart city integrations.
Let's have a look at how technology in transportation will impact the industry this year.
Impact of Technology in Transportation in 2022
Transportation technology has expanded beyond the limited capacity as it had been observed. Smart transportation systems usually consist of smart groundwork, as this provides drivers and passengers with better and advanced transportation services and experience better transit coordination efficiently. Let's take a look at how transportation technology will impact the sector in 2022.
On demand transportation services for consumers

The rising safety and health concerns of people considerably impacted the transportation sector, especially during the pandemic. Passengers and riders mostly avoided public transportation services for crowding problems. This was a major withdrawal for many single-occupant vehicles and appointments-based non-emergency medical transportation services to control the rising reliability. On demand transportation services added value to the already expanded public transportation services. The implementation of o-demand transportation software supported micro-transit shuttles while also realigning and improving efficiency and on-time transportation services. 2022 looks towards more deployment of transit agencies with on demand transportation services and adopting newer technology in transportation platforms for better delivery of conveyance.

Eco-friendly Electric Vehicles (EVs)

The emissions from transportation are still the greater contributor to the climate factor. Electric vehicles or EVs have tripled in their amount when it comes to eco-friendly transportation services. EVs expand to more than public transportation services. Passengers are riders are more concerned with eco-friendly traveling, especially at this time. Decarbonizing transportation, in general, has been a global concern, Electrical Vehicles are having a better success rate at reducing the decarbonization levels. Leveraging EV technology can bring better technological advancement in transportation. It will provide better allocation towards sustainable transportation in 2022.

Autonomous transportation services

Autonomous transportation or self-driven vehicles are capable of better sensing their environment. It can operate without the assistance or involvement of people and is achieving a futuristic attainability. Autonomous transportation has become a reality and is spreading quite rapidly. As we become accustomed to the semi-autonomous transportation services, we are already becoming familiar with automatic emergency breaks (AEBs), lane assistance, and electronic stability control (ESCs). Since these have already been integrated, switching to autonomous transportation is the next logical evolutionary step. With AVs taking a huge leap in the technology in transportation for better vehicular safety. In 2022, autonomous transportation is set to become bigger support and the backbone of the transportation ecosystem.

Micro-mobility and its importance

Micro-mobility refers to the transportation of patients, riders, and passengers over a short distance. The surfacing of micro mobile transportation systems like e-bikes and electronic scooters has become a critical part of the growth of transportation technology. It has contributed to decreasing the frustration of transportation delays and congested roads. Given its socioeconomic and environmental benefits, micro-mobility is filling the transportation gaps and becoming an accessible system for transit at a lower cost. Micro-mobility is showing a great promise in its growth in 2022, where tech providers are consistently working with micro-mobility manufacturers to provide smarter features, speed monitoring systems, on board communication systems, and making the roads a safer space for traveling.

Incorporating Telematics in transportation

Telematics is an approach for on board communication, where riders and drivers can communicate with one another. Telematics is known for collecting fleet transportation data via GPS receivers and other such communicable devices. With its accelerated growth for technology in transportation with the help of telecommunication networks, transit agencies can utilize telematics in becoming the optimal requirement for managing their fleets and include the ability to create safer bus routes. This exponentially increases passenger safety, lowers the costs of operation, and improves fuel utilization.
Advantages of Technology in Transportation
Transportation based on software infrastructure has enabled various and newer ways of transportation with smarter management of parking, better traffic performance, fuel-saving solutions, automated surveillance systems, and more. There are a few advantages for smart transportation systems and seeing how digitally the transportation groundwork is reshaping to accommodate people's requirements.
Enhanced transportation management systems

The smart management systems for traffic are redistributing the flow of transport from congested and busy areas through push notifications which deliver a total picture of the traffic in the city and the roundabouts. Proper chatbots acting as smart ticket sales can help in the automated management of tickets.

Efficiency in performance

With smart technology in transportation, there can be smaller footprints of carbon emissions due to the solutions of fuel-saving capabilities. Dispatching transportation can be more rational and provide a shorter route with the help of machine learning algorithms that is enabled by the data accumulated through street sensors and GPS systems.

Lowered expenses

Transportation companies and organizations, passengers, shippers, and everyone involved in the industry can save a lot of expenses with integrated transportation and traffic management systems. Technology in transportation has advanced above and beyond, especially with the always-connected transportation that is not limited and can be easily adapted with telematics and telecommunication technologies. The transportation technology helps in gathering more information about road users and processing the information. Thus, lowering the costs of transportation services.

Final thoughts,
2020 taught us that necessity sits at the top of all inventions. Transportation challenges slowed down the progress due to the COVID-19 pandemic. The pandemic has propelled transportation technology to adapt in new and unique ways to provide safer and more efficient transit services. 2022 will undoubtedly show how the technology in transportation can impact the existing workflow and set it in motion to move forward towards a smarter, sustainable, and efficient future for the industry. Platforms like NEMTPulse can help in transforming your dispatch software and inculcate requirements according to your business needs.

Author's Bio

Shailendra Sinhasane (Shail) is the co-founder and CEO of Mobisoft Infotech. He has been focused on cloud solutions, mobile strategy, cross-platform development, IoT innovations and advising healthcare startups in building scalable products. Follow him @sunshail