The programs offered by Medicaid have been covering the close quarters for most Americans. The rise in chronic conditions in the senior population has improved the necessity of non-emergency medical transportation.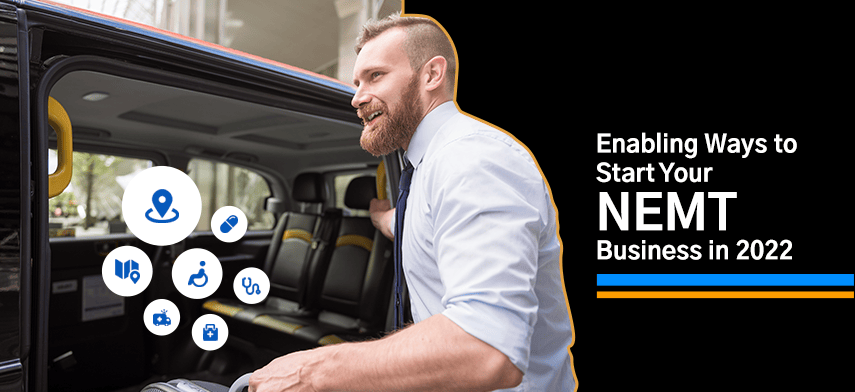 About 3.6 million people Americans lack in acquiring basic medical attention due to the unavailability of proper integrated medical transport. The application of NEMT in businesses has been growing ever since the need for equitable medical care increased. With the NEMT business being one of the lucrative ventures, it can be quite difficult when starting the business process.
Building a NEMT transportation empire differs from state to state, and it takes the Health Departments a certain amount of time to provide business leaders with the necessary information. Competing businesses in the sector of NEMT transportation can be unwilling in sharing their information with a new business in the market.
Before starting your own NEMT business, it is important to figure out what tips and tricks are necessary for formulating the right transportation services for your clients.
The Purpose of Starting Your NEMT Transportation Journey
When providers leap towards the first steps in expanding or launching their NEMT business, several quotations need to be answered. Before you start your non-emergency medical transportation services, there is a massive scope to expand in the new coming years. The visibility of NEMT services has gained enough consumer traction to integrate a steady flow of clients to use NEMT services.
Non medical transportation is a unique sector for public commute, serving the community, deserves a strong support system for future growth in the business. With competition getting fiercer, the NEMT software services will be at an all-time high.
Steps to Start Your NEMT Business
Previously mentioned, every state has a different approach when it comes to non-emergency medical transportation. But some generalized steps can be implemented across all new businesses in the NEMT sector.
Let's take a look at some of the steps to start your NEMT services.
Know your goals

The first step to building your NEMT business entails rigorous research and development. It is the first base to get a clear idea regarding the business's vision. It is important to create a business plan to get a successful result. Having a clear vision for the business plan improves NEMT's business strategizing.

Registration of the business

Before starting your NEMT business, the taxpayer identification number is required to set up the business infrastructure. Choosing the name first and then getting it registered is the next step. One can set up the business under self proprietorship under 'Doing Business As' (DBA) or under 'Limited Liability Corporation' (LLC). It is important to set up your business with a legal standpoint to avoid any future consequences.

Obtaining the NPI

Every healthcare service provider in the Medicaid and Medicare program system is required to be registered with the NPI or National Provider Identifier under the Healthcare Insurance Portability and Accountability Act (HIPAA) compliance.

Become a Medicaid provider

Integrated medical transport in the healthcare sector can improve provision to commute for patients. Every state in America has a website where a NEMT business provider can apply as a Medicaid provider. The application requirements are different in each state and sometimes require a legal entity of the business and the application fee for applying.

Optimize and get the fleet ready

Strategize the number of vehicles that will be required to start your non medical transportation business. For further evaluation regarding your fleet, you can always check with the Medicaid brokers of the state and other providers of NEMT to understand the requirements of your fleet size before starting your business. NEMT services can be differentiated from paratransit services, and they can be administered without integrating wheelchair accessibility.

Implement an authentic dispatching NEMT software

NEMT software is a cutting-edge transportation technology that provides immediate dispatch and automates all NEMT operations including scheduling, dispatching, billings, customer notification, billing, routing, customer and driver management. Installing the right tech ology can improve scheduling much easier and faster. Staff and employees in NEMT can benefit from NEMT dispatch software, providing important insight and enhancing visibility. Having dispatch software can enhance reporting and automation features to terminate paper-based traditional transportation systems.

Arranging commercial insurance requirements

For your business's next step, make sure it is properly insured for any general liabilities that may arise. Commercial insurance is mandated for NEMT businesses and providers. Insurance agencies determine ranges of factors to offer premiums on transportation safety and security policies. So it is important to make sure that every vehicle in your fleet is properly and adequately insured from any tragic consequences.

Look for a Medicaid billing agency for reimbursement assistance

Preparing invoices can be time-consuming and jittery for all Medicaid reimbursements. Having a billing agency take care of your invoices can save up a lot of time and improve efficiency for your business.

Operate as a provider by applying to the local Medicaid broker

After being enrolled as a provider of Medicaid and setting up the fleet, contacting your local Medicaid broker can help you operate better as a NEMT provider. Local Medicaid brokers can help process vet IDPs for the fleets and their drivers. IDPs can help drivers go through necessary training before they are approved for your fleet.
How can Participants Benefit from Ridesharing Services?
Drivers associated with on-demand software or ridesharing services have a lot of benefits for the services they provide. Passengers and participants of ridesharing services utilizing the commute have some benefits too. By saving costs and improving environmental impact, ridesharing can be a beneficial gamechanger in the transportation industry.
Let's take a look at how ridesharing participants can benefit from these transportation services.
Saving expenses

Single occupancy vehicles or SOVs are affordable and easy for commuting. Participants included in ridesharing or pooling can save up a lot of money and parking charges on an annual basis.

Enabling better impact on the environment

Trucks and other heavy automobiles contribute to the problem of air quality. Integrating ridesharing services can reduce traffic congestions and assist in the correlational improvement of environmental gas emissions. Eliminating the regular commute by cars can enable a better impact on the environment with ridesharing capabilities.

Improvement in transportation efficiency

Ridesharing services are well known for their time-saving feature. It reduces a lot of stress on riders and drivers and also incorporates time-efficient commuting. Ridesharing is a more convenient option to cover both short and long distances for people with mobility problems.

Wrapping up,
Getting started with your NEMT business can take time and sometimes it is difficult. But in the end, it is rewarding and provides a well-paid work-life balance for business leaders and providers. With ambulette services with your NEMT software and provide transportation services to patients and others with reliable commute systems. Having a platform like NEMTPulse can improve better NEMT fleet turnovers and enhance the high-quality customer experience to improve profitability once your business has started to provide necessary transportation services.

Author's Bio

Shailendra Sinhasane (Shail) is the co-founder and CEO of Mobisoft Infotech. He has been focused on cloud solutions, mobile strategy, cross-platform development, IoT innovations and advising healthcare startups in building scalable products. Follow him @sunshail