Insurance and insurance benefits are a part and parcel of life. Whether it is for vehicles, houses, renters, or medical insurance, it is a necessity. Insurance is a must-have for people in the NEMT industry, especially when setting up their businesses. Even with fewer automobiles, having non-emergency medical transportation insurance can be a significant investment. A few factors including the influence of expenses on other types of insurance and business insurance, there are alternatives in the workflow that are capable of diminishing the investment expenditure.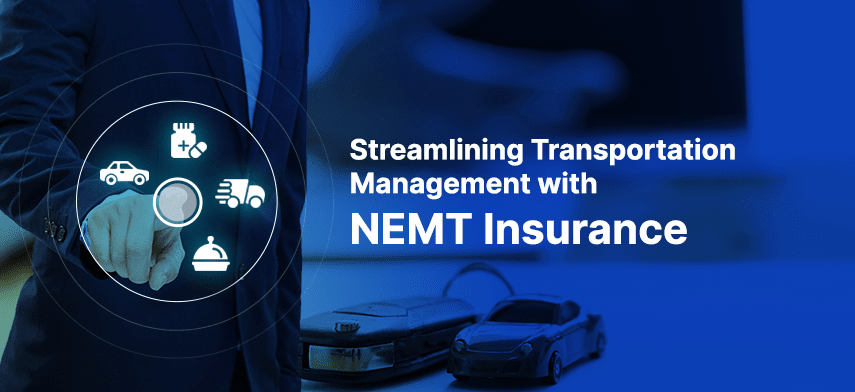 It's all about calculating risk in the world of insurance. The utility of insurance or having a vast fleet of vehicles factor in the impact on the cost of insurance coverage for NEMT. Having a business set up in the NEMT industry requires insurance to streamline one's business and keep their vehicles and transports on the road. Understanding what factors impact NEMT insurance cost, on the other hand, is an excellent method to keep track of how much you pay.
In this article, we've provided how your business can ensure NEMT insurance cost rate calculation and what businesses can do to keep the premiums from skyrocketing.
A Statistical Analysis into the NEMT Insurance Industry
The market for non-emergency medical transportation services in towns around the country is growing as the population of the elderly expands. The global NEMT industry market size was previously estimated at USD 7,091 million in 2020 and it is expected to reach USD 7,560 million in 2021, with a CAGR of 6.94% from 2020-2026. NEMT companies range in size from privately held firms to public companies that coordinate millions of rides each year. Passengers can engage medical transportation services directly or through third parties such as a nursing home or medical center that provides transportation to its patients.
NEMT was originally meant to be a mandatory Medicaid and Medicare benefit that provided transportation to patients who faced difficulties due to their chronic or age-related conditions for traveling to their appointments. However, the clients and their reasons for using this service have grown over time. Customers who use a walker, cane, or wheelchairs are still considered ambulatory and can avail ambulatory services if and when necessary through EMT-staffed NEMT services.
Even still, clients frequently require more assistance. This would be provided by a traditional taxi or transportation provider. As a result, NEMT vehicle drivers have experienced a significant increase in safety and a higher level of responsibility than a standard taxi or limousine driver. They usually assist passengers in getting into and out of vehicles. Unload and convey them after securing them in the vehicle into and out of the places they're going.
Factors Determining NEMT Insurance Cost
Insurance for your fleet can be expensive and the procedures followed to maintain your fleet by safekeeping and the employees well-trained may be time-consuming. If you're seeking to increase your fleet, you might have some questions regarding NEMT car insurance and how it will change as your business grows and expands.
A NEMT operator can pick from a choice of vehicle-related insurance coverages, such as basic liability insurance for each vehicle or supplementary coverage that protects your fleet from loss or damage. Automobile insurance costs have risen steadily over the last ten years, as you may have observed with your vehicle charges. For example, in 2010, the average cost of auto insurance was $790.66. By 2020, the amount spent had risen to above $1,427. Below, we've delved into some of the essential elements that lead to the rise of insurance rates:
Type of vehicle.
Vehicle maintenance and vehicle safety features.
Fleet size is determined by the number of vehicles in the fleet.
Employer's team's total number of drivers.
Drivers' levels of experience and company's overall safety record.
Drivers' driving records, as well as your company's history of recruiting safe drivers.
State and local requirements, as well as geographical circumstances and other road hazards.
The total number of insurance claims submitted in the past, including at-fault accidents and other difficulties.
To reduce the possibility of accidents and other concerns, a company's risk mitigation plan (for example, driver training, retraining, and certifications)
COVID-19's Impact on Insurance Coverage
An estimated 3.6 million American population miss or delay medical care owing to mobility constraints during normal circumstances. Transportation to pharmacies, lab visits, medical, appointments, health tests, and other things like meal delivery, grocery delivery, medical supplies delivery, last-mile delivery services, and more is the aim of non-emergency medical transportation. The movement has halted during the ongoing pandemic as individuals seek refuge.
If traditional modes of transportation services become explicitly inaccessible due to the quarantine, decreased access to public transit, or reserving transport for emergencies such as ambulances whose expertise is in transferring COVID-19 patients, TNCs are an appropriate fit for current demands. Another source of concern for providers is declining income. Due to the rising usage of alternate healthcare delivery systems, such as telemedicine, clinicians in some locations already see a considerable decrease in travel.
NEMT Insurance Assisting Medicare and Medicaid Providers and Payers
Access to health care can be hampered by a lack of mobility, especially for seniors, chronic patients, or low-income members of a community. To address this issue, federal Medicaid laws mandate that states provide non-emergency Medicaid transportation services to and from providers. NEMT Medicare services typically cover a broad range of transportation services, including rides in taxis, buses, vans, and personal vehicles owned by beneficiaries. However, the scope of the benefit varies in each state. Providers and payers under Medicaid and Medicare can utilize NEMT insurance costs and help chronic patients, seniors, people of color, minorities, and others of a community with enhanced transportation services for both medical as well as non-medical requirements.
The NEMT software indulges in a technology-first approach to patient transportation, provides rapid, dependable, and cost-effective non-emergency medical transportation services. With NEMTPulse, a non-emergency medical transportation software system, which is cloud-based, can help your businesses in evolving through every stage of development.
To address the increased demand from healthcare providers for trustworthy medical transportation services for their patients, NEMT businesses must digitize their operations. With a solid NEMT dispatch software solution, we can assist you in accomplishing this. Aside from the extensive feature set, our system provides NEMT service providers with several critical benefits. To promote your company's brand, provide branded interfaces for drivers, healthcare organizations, and patients, while maintaining HIPAA compliance, patient privacy is protected on every trip healthcare professionals appoint for their patients.

Final Thoughts,
With the rise of insurance costs and economic challenges, the non-emergency medical transportation sector has attained both positive and negative impacts. The end line for the transportation sector is to provide efficient, seamless, and streamlined services to their consumers, with minimized insurance costs and added transit benefits. Businesses with NEMT integrated services can leverage the NEMT software. Therefore, keeping the insurance cost at an all-time low in any given situation.

Author's Bio

Shailendra Sinhasane (Shail) is the co-founder and CEO of Mobisoft Infotech. He has been focused on cloud solutions, mobile strategy, cross-platform development, IoT innovations and advising healthcare startups in building scalable products. Follow him @sunshail