Over two-thirds of Medicaid recipients are enrolled in private managed care plans that contract with states to provide comprehensive treatments, while the other clients are treated on a fee-for-service basis. Private pay transportation is one of the many reasons for changing the insurance scenario in the NEMT businesses today. Especially for non-Medicaid members.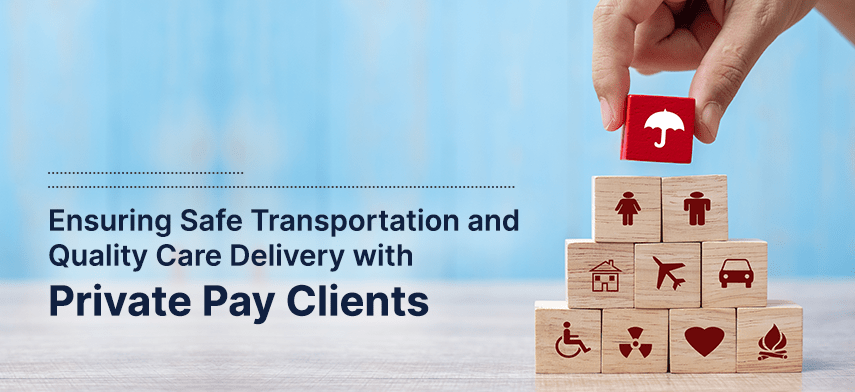 Medicaid provides coverage for health services that might otherwise be out of reach for low-income people. Medicaid helps many low-income adults, the elderly, and persons suffering from disabilities, as it covers one in every five Americans. According to Kaiser Foundation, private insurance companies are expecting to pay USD 2.1 billion rebates to consumers under the Affordable Care Act. Private pay transportation services are becoming an efficient and effective service for payers, providers, and Medicaid/non-Medicaid members.
Private Pay Insurance Enabling Transportation for Non-Medicaid Members
The widely spread COVID-19 pandemic has exposed the health inequities existing even now. This has impacted particularly the ethnic, racial, rural, urban, and socioeconomic strata. These health inequities have existed for years and have been long-standing, but the recent pandemic has driven the public to acknowledge the momentum of this disproportionate impact on underserved communities. Thus, enabling them to meaningfully address social determinants of health.
Everyone wants health care and health transportation services to be as straightforward as possible and receive the necessary services when required. For Medicaid-eligible persons, the expense of emergency medical transportation is covered. Medicaid pays for trips to and from the doctor's office, the hospital, or any medical facility where Medicaid-approved care is provided. Beyond Medicaid beneficiaries, non-emergency medical transportation is widely used in other government-oriented programs and the health insurance market. CDC has rightfully included transportation as an absolute social determinant of health.
A swarm of people, who are not under the listed Medicaid beneficiaries is turning to private pay transportation for traveling services. The people providing private transportation services are recognized as private pay clients enabling better transportation solutions to non-Medicaid members.
Providers and payers are exploring housing care and in-home care benefits for non-Medicaid members, hence private pay home care services offer clients/members to receive at-home care services at lower costs. Personal pay home care services can be tailored to fit specific needs as they are provided on an individual basis. Patients and providers can be matched by home care organizations based on skills, preferences, and overall compatibility. This flexibility leads to a high degree of client satisfaction. With private pay medical transportation facilities, private pay medical transportation services become a seamless, effective, and efficient service for providers and payers.
Opportunities Ceased by NEMT Private Pay Services
The private pay transportation service provides transportation to and from doctor's appointments, hospital visits, pharmacy pick-ups, and other healthcare-related journeys for seniors, especially-abled individuals, people of color, individuals with lower income, and those who cannot drive themselves. A growing number of people not covered by Medicaid coverage are relying on NEMT firms for transportation services.
So what are the benefits of NEMT private pay services?
Cost-efficient and flexible

The main benefit offered by private pay services is that they are more flexible and cost-efficient. The process is relatively low-cost compared to that of Medicaid clients.

Reduced paperwork

Working with Medicaid services will require someone ready to file claims for every trip. The billing of insurance claims is a lengthy process that can take a few days or months to process if errors are found in submitted claims. In private pay transportation services, there are no claims required to be submitted. All that is needed is to have your passenger pay right when the trip ends.

You choose your rates

There is much flexibility in pay rates when working with private pay clients compared to Medicaid clients. When passengers are being transported through NEMT brokers and MCOs, you are reimbursed based on the Medicaid rates within the state you are in, which is something you can't control. With private pay transportation, you can charge what you think is fair and you will also receive payment right after the trip.

Manage and control your business

Rather than depending on brokers to book your trips, you have your chance to seek out those in need of rides yourself. You may become a go-to transporter for those who need private pay transportation. some ways to get these clients include making a great connection with local hospitals, be technologically updated, always reply to your client messages in time, and more.

Get more profitable

You can make more money working with NEMT private pay clients in various ways, including setting your fees. You can charge deadhead miles for the extra time spent driving without a client if you have to travel much beyond your typical boundaries. Furthermore, private pay passengers are more likely to travel during off-peak times, such as weekends and holidays, when you can charge a higher rate than usual.
Changing NEMT Mindsets with NEMTPulse Software
The NEMT process can be automated with NEMTPulse software, a white label dispatch solution. Its purpose is to assist people in meeting their healthcare transportation needs by providing reliable non-emergency medical transportation. By streamlining the entire process, the unique approach considers all related parties - health care organizations, payers, providers, and patients.
It offers:
Private cloud hosted brand solutions
Flexibility with customization integration
Enhanced control over data, security, and management
HIPAA compliance
Intuitive UI/UX
Scalability
Intelligent dispatch and dedicated support
With NEMTPulse, the best solutions will be available under one platform, with seamless data management by enhancing quality care delivery to patients and members.

Final Thoughts,
While all consumers are vital to keeping your NEMT business running correctly, private pay customers are the key to swiftly increasing your earnings as a client. You have more control over pricing and rates with private pay clients, and you'll get paid much faster than you would with regular patients. Many people are today using private pay transportation to reduce the burden involved in Medicaid services. Private pay Medicare transportation is also seen as a quick solution to some delays in bulky paperwork evident in the Medicaid billing process. Therefore, with NEMTpulse, you can integrate private pay transportation services into your business.

Author's Bio

Shailendra Sinhasane (Shail) is the co-founder and CEO of Mobisoft Infotech. He has been focused on cloud solutions, mobile strategy, cross-platform development, IoT innovations and advising healthcare startups in building scalable products. Follow him @sunshail