Due to the COVID-19 pandemic, the U.S has been highly affected by economic and public health crises. As a result, health transportation services are considered a crucial need of the hour. Many NEMT organizations are hiring a team of nurses and offering adequate first aid training to their drivers.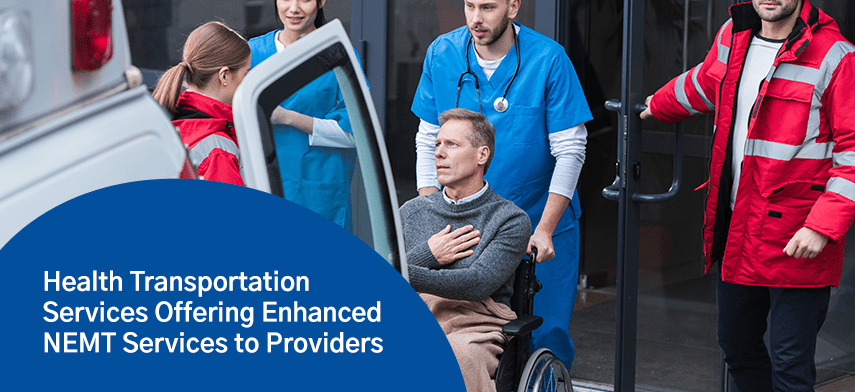 Let's take a look at how transportation is helping healthcare providers.
Transportation Services Help Pay Off Healthcare Providers
More often than, it is reported that rural patients do not receive proper medical checkups or there are delays in appointments due to lack of transportation. This usually happens due to a significant health transportation services barrier. In addition, adequate medical facilities are situated away from rural and underdeveloped areas.
Therefore, it takes more time to transport patients who require scheduled kidney dialysis or body checkup. In addition, research suggests that insulin stays less in the body if not given within a predetermined time.
As per the report, more than 1.8% of rural patients in the U.S delayed treatment due to improper transportation Meanwhile, Medicaid recipients, Hispanic individuals living below the poverty line, and the differently-abled suffer the most.
At present, NEMT companies are joining hands with community members, practitioners, and policymakers for offering secure transportation services. In addition to this, non-emergency medical transportation companies use multiple approaches to offer quick help to patients. For instance, NEMT has started a volunteer program where doctors, pilots, and drivers come forth to help with in-transit patient care. Secondly, NEMT also employs mobile medic clinics in rural and under-developed areas. Thus, patients in dire need can get rapid treatment.
NEMT companies also adopt different languages to get to know precisely about the ailments of a patient. This process offers help to refugees and non-English speaking residents in the states. Few other initiatives taken by NEMT companies are listed below:
Special transportation for differently-abled patients. The home health care transportation services use specially designed vehicles in such cases. Most of the vehicles have space for gurneys and wheelchairs. These vehicles also have handrails, first aid boxes, blankets, etc.
Volunteer driving programs during the wake of COVID-19. Non-emergency medical transportation companies hire vaccinated drivers who strictly follow COVID-19 regulations and are capable of extending their hands to the patients who require transportation.
Matching the needs of senior patients and people suffering from chronic ailments. Here, NEMT hires experienced drivers who are empathic and offer exceptional care during transportation post and during acute care management.
Effective planning for elder, low-income, and disabled patients. Initially, NEMT makes thorough planning about how to transport such patients offering door-to-door services.
Fixed-route response for proper assistance to local patients during the pandemic. Through this initiative, NEMT sees to it that drivers and patients stay safe during transportation.
Special transportation programs for patients who receive Medicaid. This initiative makes patients aware of their Medicaid benefits. Additionally, patients also get informed about how patients can book their medical appointments.
NEMT benefits in Medicaid Programs Improving Benefit Designs
Contrary to the previous system, NEMT companies now respond on time and are more reliable. NEMT includes medical transportation scheduling software that can be downloaded on mobiles or accessed through web portals. NEMT service software is easy to follow and allows secured payment methods.
NEMT includes responsive medical transport as drivers are courteous and well-trained. Nowadays, NEMT companies ensure enhanced health transportation services to rural and underdeveloped areas. Before ride cancellation, NEMT companies offer an adequate reason and inform about the cancellation in advance. With the help of NEMT providers and their ridesharing options, patients can even look for alternate and optimal routes to their destination. Thus, assisting in reducing a considerable amount of money on transportation.
Health Transportation Services Improving Patient Care
Proper health transportation is the intrinsic part of offering thorough assistance to a patient. NEMT transportation services provide different accessibilities and are considered one of the best virtual care solutions. Few challenges that NEMT has overcome to offer duly service to the elder, physically disabled, and minorities are:
Residential isolation
Economic inequities
Vast distances to reach medical centers
No translated materials
NEMT focuses on seniors, chronically ill, individuals of color, people with low-income rates, and minorities living in isolation. For this, they had gathered a team of volunteer pilots and practitioners. Along with this, NEMT offers proper signage and tribal language options to seniors for better communication and understanding of their ailments, requirements, and/or illnesses. For this reason, they get a chance to book a ride effectively. During the present pandemic, NEMT companies are strictly following COVID-19 rules. This initiation offers the upper hand in transporting elderly patients to medical care and successfully avoiding exposure to the virus.
A few social determinants of health for the rural population include:
Employment, income, and poverty level
Health literacy
Ethnicity
Environment health, including pollution level and air quality
Education level
Gender identity
LGBTQIA+ community adherence
Access to healthcare
Ease of transportation
People residing in rural areas depend excessively on public transport for their medical and non-medical requirements. However, the condition of the local rural public transport vehicles is not up to date. Resulting in patients have to go through uncomfortable situations. In many cases, local rural non-medical transportation even met with a fatal accident. Meanwhile, local rural residents also have to visit grocery stores and pharmacies regularly.
Individuals living in rural areas also deal with discrimination that leads to substance abuse, anxiety, etc. For the better health of the rural population, NEMT seeks help from physicians and rural veterans. NEMT then seeks out the most underprivileged rural areas that need immediate attention. Non-emergency medical transportation providers and companies assist in educating patients and residents of rural areas about their services and how they can avail themselves of these services. Thereby patients do not have to travel far for either non-medical or medical requirements.

Final Thoughts,
To summarize, NEMT can be considered as a boon for the urban and rural population. With the increasing NEMT provider profitability rate, it is evident that this service is in demand. Contrary to traditional transport booking, NEMT offers a user-compatible interface and various accessibilities to patients and health providers. In addition, this non-emergency medical transportation service joins hands with several rural organizations for the betterment of residents. Therefore, NEMT organizes several volunteering programs in rural areas, helping minorities in need by enhancing better health outcomes and determining the proper addressing of social determinants of health.

Author's Bio

Shailendra Sinhasane (Shail) is the co-founder and CEO of Mobisoft Infotech. He has been focused on cloud solutions, mobile strategy, cross-platform development, IoT innovations and advising healthcare startups in building scalable products. Follow him @sunshail