There are certain situations where senior citizens and people with disabilities find themselves unable to drive to their appointments, run errands, or just go out for non-medical reasons. Healthcare transportation services allow these patients to attend to their necessary medical and non-medical appointments. There are two these options emergency medical services, and non-emergency medical transportation services. These transportation are specifically designed to help patients carry on with their daily activities. But EMS and NEMT services are significantly different.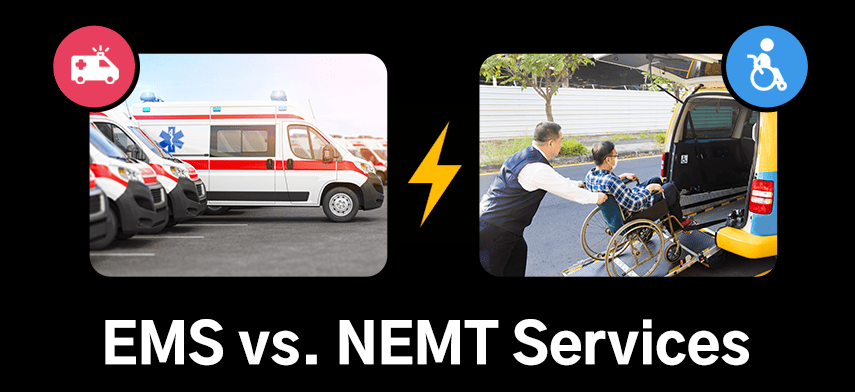 When people need transportation services to a medical facility, these options help them to choose the better option. However, many people don't know the difference between these two healthcare transportation services. Let's take a look at how they are different from one another.
Emergency Medical Services
EMS or Emergency medical services provide emergency medical care to patients. It can be activated when patients require first aid and treatment during medical incidences. Emergency medical services often offer immediate transport to hospitals and healthcare systems with their automated emergency vehicle. EMS is mostly tasked with responding to emergencies, but it is more than just normal healthcare transportation.
Attending to emergency responses

EMS coordinates with the response system and it is designed to respond to medical emergencies specifically. It has the involvement of many healthcare agencies, organizations, and solo practitioners. Every component using emergency medical services has a role in seamlessly integrating EMS for responding to any crisis calls. These components are:

Transportation and communication networks
Private and public organizations, agencies, startups, and medical facilities
Provision of highly-skilled and trained volunteers and professionals

Providers of EMS work collaboratively with and within the community as it falls under their roles and responsibilities to identify, respond, and inform medical, health, and well-being issues residing within the communities. These ambulance emergency transports and different EMS components ensure public safety and services and inform agencies to dispatch medical transportation services efficiently on local, state, or national levels.

EMS organizational structures

The EMS services' organizational structures are different depending on states, cities, and countries. These structures include fire departments, non-profit organizations, government agencies, healthcare organizations, hospitals, volunteer groups, local police, and more. To support special medical equipment, these emergency vehicles have strict protocols in please to respond to several medical emergencies, timely calls for backup, and other aspects.
Non-emergency Medical Transportation Services
Non-emergency medical transportation services can be used for any medical and non-medical transportation services. It is usually used for non-life-threatening situations. NEMT services can be crucial to patients who require special medical equipment and treatment during transportation from point A to point B. NEMT services are usually used for these situations:
Long-distance medical treatment and procedures

Patients needing medical treatments and procedures in other states or countries can hire NEMT services to ensure safe health transportation services. This is due to the inclusion of special medical equipment during traveling to other organizations and facilities or they're not allowed on flights or for traditional methods.

Traveling for medical appointments

NEMT services can also be used for centralizing patients who need transportation services to rehabilitation centers, clinics, hospitals, etc. they can call for NEMT providers as they may need wheelchair transportation services, oxygen tanks, stretchers, or other supportive special medical equipment during the journey. But the most common reason for requesting NEMT providers is simpler, it is used mostly for non-emergency medical services like getting to an appointment or for going about their daily lives.

Traveling for leisure

Families, senior citizens, people with disabilities, and other individuals who do not have vehicles and cars for safe transportation can hire NEMT services with medical equipment for leisure trips. It can be related to family visits or going on holidays. Calling for NEMT providers can offer such trips in the best ways possible to ensure the safe travels of their loved ones feel safe during their journey.

The organizational structure of NEMT providers

NEMT services and providers are often private businesses that provide their services to clients who require medical needs, medical equipment during transportation, or mobility issues. The support staff and drivers are experienced or trained in providing necessary medical as they are equipped with the medical tools and equipment meeting the standards for medical vehicles. NEMT providers can use special apps and software like NEMTPulse to improve the services of their operations and organizational structure. Non-emergency medical transportation services are essential for standalone businesses that lack the internal infrastructure of communications that EMS usually has. That is where NEMTPUlse comes in schedule, plan, and route dispatch services for providers and patients.

Choosing the Right Healthcare Transportation Services
To summarize the conversation between healthcare transportation services like NEMT and EMS services, EMS can mostly be used for medical emergencies whereas NEMT services can be used for both medical and non-medical transportation to live out daily activities. NEMT services are best for patients who need reliable transportation services to carry on with their appointments and visits. NEMTPulse offers top-notch services with ADA compliance on vehicles and improves transportation accessibilities for patients, senior citizens, and people with disabilities. So now, you have an understanding of the differences between EMS and NEMT to choose the next best healthcare transportation services for your next appointment and clinic visits.

Author's Bio

Shailendra Sinhasane (Shail) is the co-founder and CEO of Mobisoft Infotech. He has been focused on cloud solutions, mobile strategy, cross-platform development, IoT innovations and advising healthcare startups in building scalable products. Follow him @sunshail