Healthcare transportation services are playing a huge role in providing on-demand and on-time care transportation delivery. Health providers, payers, and patients are at an advantage with ridesharing options in transportation, that enhance better communication for medical and non-medical purposes.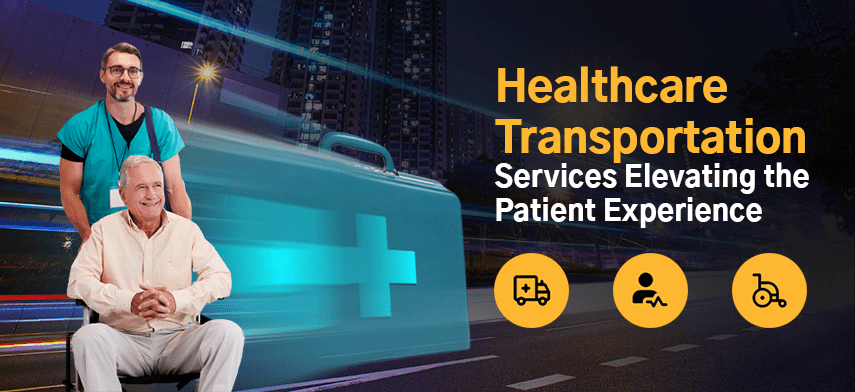 Ride-sharing has been a well-known scheduling system when it comes to NEMT software. This latest launch was initially offered via Lyft, but many transportation companies started to provide this option to regular travelers. Ride-sharing allows businesses and organizations to monitor and cover the transportation costs for employees. In recent years, healthcare organizations are utilizing this non-emergency medical transportation software for better clarity in commuting, especially to Medicare and Medicaid beneficiaries.
Importance of SMS Solution in Healthcare Transportation Services
Every sector, today, has access to the most technological advancements. The Healthcare sector is no different from this perspective. The SMS Solutions for businesses have been integrated into ride-hailing apps. What most people don't know is that many populations live in inaccessible areas, or do not have the leverage of owning a smartphone. Due to this, many people do not have the advanced smartphone applications to hail cabs for their requirements. The SMS solution in the healthcare sector is duly noting the patients who do not have a smartphone and then listing them to the universal technique of spreading information, through text message or SMS alerts. A few ways in which SMS solution has advanced include:
Easy appointment visits through business pickups

SMS solution caters to economically underserved and underdeveloped populations without access to smartphones. This technological gap is fulfilled via universally accepted text messages. With ongoing medical treatment, patients need to be able to make it to their appointments without delay, and SMS solution provides exactly that. Uber Health has launched a care coordination platform where care coordinators can book a ride for a patient for future appointments.

Developing global leverages through SMS solutions

Developed nations have intensively integrated various platforms for communication when it comes to healthcare, many countries still lack this infrastructure. The revolution of transportation and health in healthcare transportation services are further improving their delivery for critical populations, even in developing and underdeveloped places. The global leverages in developing countries for rides to doctor's appointments are steadily increasing via SMS solutions.
Healthcare Transportation Ride Sharing Assisting Patients in Booking Appointments
Non-emergency medical transportation software has become a norm in the US. Care transportation services have become a source of on-demand commute whether it is for medical or non-medical purposes. Medical dispatch software in NEMT systems helps drivers to understand customer requirements. In case of emergencies, ridesharing becomes an important feature that the transportation industry requires in its continuous workflow. Inadequate transportation can cause tremendous roadblocks and can be fatal to senior or elderly patients.
With the healthcare transportation services application, customers can book their rides for medical appointments, prescription delivery and pickup, request rides to other locations, and book their vaccine appointments. The procedure is quite similar to ordering a delivery or pick-up service, except patients/users have to select a pass that provides phone numbers, access codes, direct links, etc. Healthcare transportation and ridesharing are providing as much assistance as possible for streamlined and seamless care delivery beyond their capabilities.
Medical Appointment Transportation Simplifying Transit Problems
We have already discussed how non-emergency medical transportation software is helping to ease the transit problems, especially in this pandemic. The medical appointment being an important factor has been facing transformation just like the rest of the industries. Healthcare organizations are implementing transportation services to offer better acute care, post-acute care, and other care services through transportation requirements.
Getting a certain appointment for medical purposes can be tough, and having clients not show up for these appointments can be frustrating. The issue mostly stems from inadequate transportations and is the main cause when it comes to visiting providers for appointments. This inability to reach appointments isn't beneficial for either providers or patients. Thus, causes unnecessary issues in care delivery processes. As NEMT services are now able to cover beneficiaries under Medicaid, various companies have started providing proper medical appointment transportation services for patients. Some of them include:
Uber Health: Providers and doctors can schedule rides for patients or on behalf of them, where its services are applicable and available. This way, customers do not require access to smartphones. Care technology advancements in transportation now only require patients' names, numbers, and pick-up/drop addresses.
NEMTPulse: NEMTPulse under the Mobisoft Infotech umbrella is gaining recognition in the US due to its simple and user-friendly interface. Integrated non-emergency medical transportation software can increase the accessibility for proper healthcare transportation services, without delay in reaching medical appointment bookings.
Johnson Health Center: Their feature includes free rides to and from medical appointments for all their patients.
LogistiCare: Being the largest NEMT manager, they manage their NEMT programs through inclusivity for organizations that use their services. They helo organizations and states in solving community care coordination challenges.

Wrapping up,
Technology is set to advance even further post the pandemic, and it has had an immense impact on the healthcare transportation industry. NEMT has emerged as a savior in times of extreme need. The pandemic has exposed a lot of our vulnerabilities, but it has also helped in enhancing our systems to provide better care and transportation delivery to those who need it. With NEMTPulse, healthcare providers and patients can have seamless commuting for appointments and home visits, users can ensure on-time services to grocery stores, pharmacy pick-ups, and more.

Author's Bio

Shailendra Sinhasane (Shail) is the co-founder and CEO of Mobisoft Infotech. He has been focused on cloud solutions, mobile strategy, cross-platform development, IoT innovations and advising healthcare startups in building scalable products. Follow him @sunshail