Commuting in a wheelchair, especially by public transportation means can be cumbersome and tiring. People who are physically unable to avail of accessible transportation services van also face the same frustrations. This has been a noticeable transportation problem in the private and public sectors that are not equipped with the right access points for wheelchairs.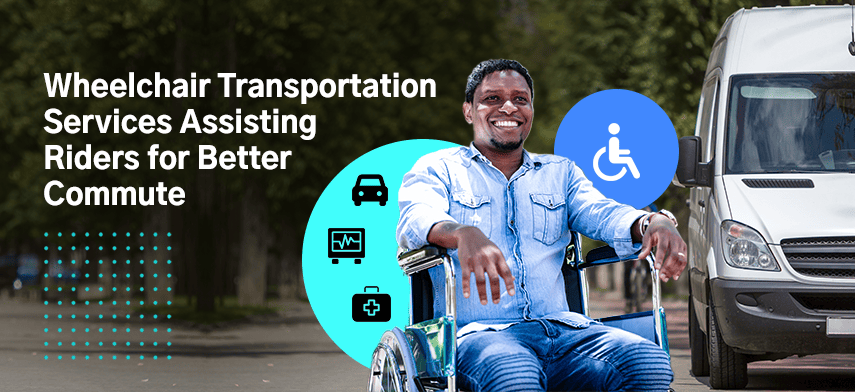 There happens to be an alternative that provides affordable and comfortable transportation for those with disabilities. Wheelchair transportation services bring in various benefits to riders and their families. In this article, we will be focusing on the benefits of wheelchair transportation services and how it is helping people with a lack of wheelchair commute accessibility.
Benefits of Wheelchair Transportation Services
Hiring a wheelchair service can be extremely beneficial for those patients who require transportation accessibility without much hassle. The benefits of wheelchair transportation services include:
Better comfortability

One of the main reasons for special transportation services is the comfort. Hiring a wheelchair service can offer effortless trip scheduling and leaves no room for inconveniences for the riders and drivers. With wheelchair-accessible transportation, there is more room to improve convenient drops and pick-ups. When it boils down to work-related activities, medical wheelchair transport, and hospital transportation services can help make emergency trips easier. By availing of the wheelchair transportation service, riders will have access to necessary equipment and healthcare requirements. With several models and options available for vehicles, your business can choose the one best suited for your needs.

Reduced pain symptoms

Public transportation can be frustrating and depending on one's disabilities it can be painful to draw the wheelchair back and forth. With wheelchair transportation services, it is now possible to have better accessibility as it is specifically designed for the passengers to get in and out of a vehicle, reducing the symptoms of pain and giving relief to them.

Freedom

Another key benefit of wheelchair transportation services is having the freedom like everyone else to move around a specific area. These services have become essential in giving people the leverage to visit their necessary places and they can also be provided for vacations and business trips. Wheelchair transportation requires no personal assistance, allowing the riders to have their freedom when traveling from point A to point B.

Saves time

As a business owner, it is important to have wheelchair transportation services more accessible for your drivers. It saves time and reduces any hassle that patients, drivers, or other riders may face. Having this service can provide better transportation accessibilities and offers on-time drop-offs and pickups when driving to a meeting or going to an important event. It is extremely reliable when going for short and long trips for businesses that are around the regions.

Service providers are trained

Apart from being well-equipped vehicles, businesses with non emergency wheelchair transportation have trained personnel who are present during the entirety of the trip. They are well aware of the situation of the rider and will be able to provide necessary assistance with reliable resources offering safe and comfortable transportation trips. The drivers are offered non-EMT certification for their services and ensure better ride outcomes for the riders or clients.

In conclusion,
For your business, having non emergency wheelchair transportation services makes it an accessible and approachable solution for people who are in dire need of assistance when publicly commuting from one place to the other. With NEMT services, you can offer the right resources to your customers and help them with affordable and time-saving rides without any hassle.

Author's Bio

Shailendra Sinhasane (Shail) is the co-founder and CEO of Mobisoft Infotech. He has been focused on cloud solutions, mobile strategy, cross-platform development, IoT innovations and advising healthcare startups in building scalable products. Follow him @sunshail