Transportation services have been facing various challenges, especially during the course of the pandemic. Transportation companies and organizations needed to acquire funds for the enhancement of their transportation software. Many challenges were concerned with the community's health and well-being.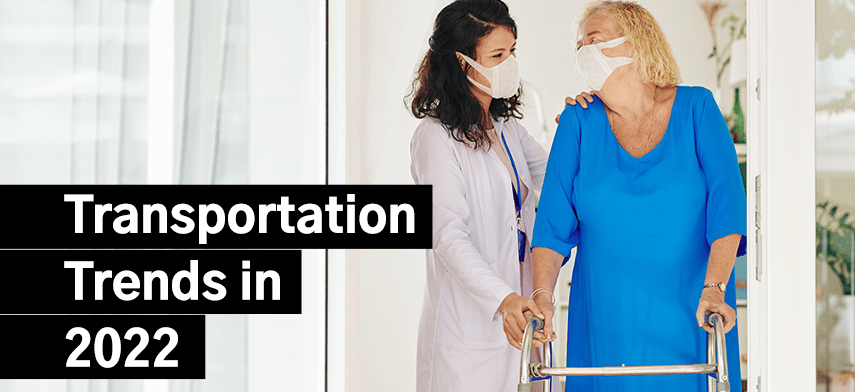 The transportation trends over the years have wonderfully transformed in the last decade. With the upcoming year, new trends in transportation are emerging. Let's understand these trends.
Transportation Trends in 2022 for Non-emergency Medical Transportation
The emergence of new trends has transformed the transportation industry evolve. 2022 will bring forth a newer understanding and offer better senior transportation services. Trends to look forward to 2022 include:
Public health as the new focus for transportation

Non-emergency medical transportation services have already begun to envision the transportation trends beyond the 9-5 commute system. Transportation services providing rides for vaccines and preventive health programs are building an enhanced ridership for patients and travelers. Transportation industries are pairing up with non-emergency medical transportation agencies to provide better access to flu and COVID-19 vaccine appointments. Hence, enriching the health and well-being outcomes for patients and seniors.

Equitable fare payment

With patients, seniors, and communities getting better access to care and vaccination and promoting the use of transportation services, transportation trends recognizes the betterment of overall health outcomes. That is why many companies are making the fare payment schemes more equitable. Some companies are also implementing the fare-free service for enhancing the inclusion, accessibility, and equity of people who avail of the rides. With the COVID-19 emergency relief legislation in place, it permits companies with 100% funding that is eligible for operating with the fare-free transit.

Stronger career advancement

As the pandemic advanced, fewer and fewer employees wanted to be associated with transportation companies. With medical transportation services and non-emergency transportation in dire requirement, transportation industry trends have changed to accommodate skilled and valuable employees. The need for essential workers has been immense during the pandemic has increased the awareness for transportation services for the communities. Safety and health is the prime concern for patients and seniors, transportation companies are incorporating better on-demand delivery and transport-hailing services. Taking assistance from NEMT companies can benefit transportation services for seniors, patients, and other chronically ill members of society.

Redesigning more frequent routes and services

With NEMT and transportation software, transportation trends have become the roots of redesigning routing services. Better GPS tracking, routing optimization, and better implementation of technology in transportation services have made redesigning of the existing frameworks better and strengthier.

Expansion in micro-transit services

The expansion of micro-transit can essentially help transportation services to grow and offer fixed routes serving underserved and rural areas increasing transportation frequency. Digital technology companies like NEMTPulse under the Mobisoft umbrella can help providers and organizations to build micro-transit apps to enhance better commuting of seniors and other patients. Experimenting and collaborating with such companies can help transportation services prepare for a better future.

Sustainable transportation trends in focus

Transportation companies are implementing more sustainable transportation services to become more responsible towards the environment and influence sustainable commuting during any calamity. Equity firms and investors are incorporating better strategies to improve the state of transportation services by prioritizing the necessity of sustainability. Several companies are investing in Electrical Vehicles (EVs) to maintain the social, environmental, and governance plan of action. More demand for EVs offers lesser pollution and enhanced conveyance for seniors ad patients. Thus, the pricing of EVs will go down with increased demand and become a popular mode of sustainable transportation soon.

Transportation Trends Developing a Better Future
2022 will bring in a combination of services in the transportation industry trends. With NEMT services at the top of their game since the onset of the pandemic, transportation companies are seeing great potential in the next steps that can be both beneficial and profitable for providers, patients, and the planet. This is the time, where transportation trends will make a revolutionary growth in altering how vehicles need to be designed, used, and made. Hence, it is important to implement technologically advanced transportation services to be a part of the new era that comes with the new year.

Author's Bio

Shailendra Sinhasane (Shail) is the co-founder and CEO of Mobisoft Infotech. He has been focused on cloud solutions, mobile strategy, cross-platform development, IoT innovations and advising healthcare startups in building scalable products. Follow him @sunshail