Be it a ride home from appointments or visiting a doctor, delayed arrivals aren't preferable. The population living in underserved and rural areas, unfortunately, face a lot of wait time when it comes to transportation they can depend on. This can affect the health and well-being of people and impede the entire patient experience. The barriers to transportation directly correlate to challenges in healthcare accessibility. These barriers pave the path for delayed and missed appointments and medication requirements in care delivery services. Therefore, these consequences affect chronic illness mismanagement leading to below-average health outcomes.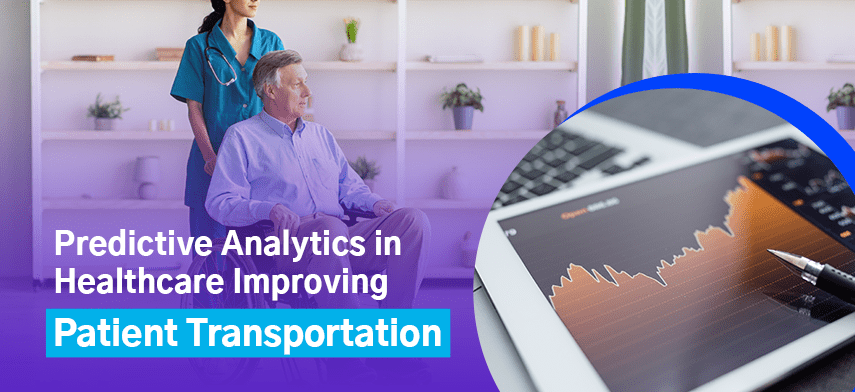 For improving healthcare equity and overcoming these barriers, it is important to ensure safe, reliable, and easily accessible transportation management. When we collectively choose to break down these barriers, providing smooth transportation services to the underserved populations, can improve their quality of life. According to a study conducted by Logisticare in 2018, 58% of managed care members availing NEMT services wouldn't have been able to make it to their appointments if NEMT solutions were unavailable.
Predictive analytics in healthcare has become a known entity serving to break down transportation barriers and prevent patients from the risks of readmissions or ED visits. With proper impact on transportation, improving patient satisfaction, lowering the costs of healthcare, and helping with better health outcomes.
Predictive Analytics in Healthcare and NEMT
Non-emergency medical transportation has been an advanced service in removing barriers to transportation via predictive analytics in healthcare. The high-tech NEMT platforms have given users more visibility into the operations of medical transportation services. Real-time tracking and feedback received can be of immense value when it comes to NEMT services. Predictive analytics in healthcare can offer high-level oversight in and across NEMT environments. It captures the experience of individual riders and keeps up with the transportation trends. Hence, providing necessary benefits to managed care organizations (MCOs).
The ideas from Advanced Traffic Management Systems (ATMS) can be extremely useful in building NEMT services. The ATMS are designed to remove the obstacles and problems caused by traffic. With NEMT services, the concepts are similar to that of ATMS, now with integrated predictive health analytics. It helps to make real-time decisions and has a positive impact on trips with patients. Predictive analytics in healthcare can assist in rerouting trips while on the go, allows trip changes, and decreases ride wait time for patients. Healthcare predictive analytics can assist in mitigating traffic congestions, analyzing rush-hour, and preventing accidents from occurring.
The real-time tracking capabilities in NEMT can help MCOs to correctly monitor trips and raise flags towards drivers who are late or no-shows. Transportation analytics allows providers to reassign a driver if the one assigned fails to show up. They can even assign trips to other vehicles in a similar area. Therefore, patients and members can reach their appointments on time with seamless transportation services.
Several NEMT providers are working in both urban and rural areas facing various unique challenges when it comes to transportation. The purpose of NEMT is to deliver rapid and efficient health services to patients and users via an enhanced use of data analytics. This can help in bridging the time gap during traffic congestions with the help of predictive analytics in healthcare. Using the patient and driver location with GPS on smartphones and vehicles, predictive analytics healthcare can reroute vehicles based on urgency to the right place and time. Hence, predictive data analytics can improve the overall patient experience, elevate satisfaction, and provide a responsive ride management system in delivering proper quality of care.
Changes in Transportation Analytics with Predictive Care Services
The understanding of flexibility implemented in other quality metrics and recognizing the goal of program optimization, predictive analytics in healthcare can assist in making routing or pre-dispatch decisions. This can help to achieve other goals in implemented programs for member health that help to facilitate strategical investments at a higher level. By integrating these improvements, it is safe to say that, predictive health analytics is transitioning the lower level scheduled service tasks with automated decision-making by improving the scalability and control of implemented programs with the help of human oversight.
Predictive analytics in healthcare understands and acts on the many transportation challenges faced regularly. Some of those include:
Predictive care analytics offering on-time arrivals

Predictive analytics can be utilized for achieving on-time arrival corresponding to appointments and it can also be molded with different predictive models in transportation. This can improve the quality of drivers and ensure better management of expenses. The decision for routing is better identified with optimized performance via predictive health analytics. This provides insight into routing decisions before a driver is dispatched.

Transportation data prediction for improved efficiency

The transportation data from past trips of riders are collected to understand rider no-shows. Transportation data prediction offers an intervention to improve the efficiency of the network, expenses, and programs for refining rider adherence for their appointments and doctor visits. This transportation analytics prediction can improve patient health outcomes and generate a reduction in costs for health and healthcare systems.

Improving patient transportation experience

With assistance from forecasting complaints, it helps in improving patient transportation experiences and improve patient satisfaction with their ride to and from the appointments. Riders are provided with specific values that adhere to their experience. Thus, helping in understanding and viewing the ride-related expectations that may require automated/human interventions to address the issues. Having these predictive analytics in healthcare drastically improves the patient transportation experience.

Identifying transportation routing decisions via NEMT data analytics

The predictive models of transportation monitor the data from NEMT, medication management, remote patient monitoring, meal delivery, etc., to provide better decisions when it comes to routing. Transportation becoming the sole backbone for these services, NEMT providers can decipher and determine the outcomes of these services using the data collected from them. Hence, it allows developing an expected value for care delivery services.

Bottomline
The NEMT industry is digitizing and collecting more data that can be analyzed and provide 24/7 on-demand transportation experience to patients residing in urban and underserved/rural areas. This can immensely improve the patient trip experience and overall improve the general registration for rides. By utilizing predictive analytics in healthcare, whether being a patient, driver, or provider, NEMT models will keep improving ride experiences for every person involved. Thus, predictive analytics in healthcare will be a crucial aspect in enhancing patient ride experience in the future of transportation.

Author's Bio

Shailendra Sinhasane (Shail) is the co-founder and CEO of Mobisoft Infotech. He has been focused on cloud solutions, mobile strategy, cross-platform development, IoT innovations and advising healthcare startups in building scalable products. Follow him @sunshail